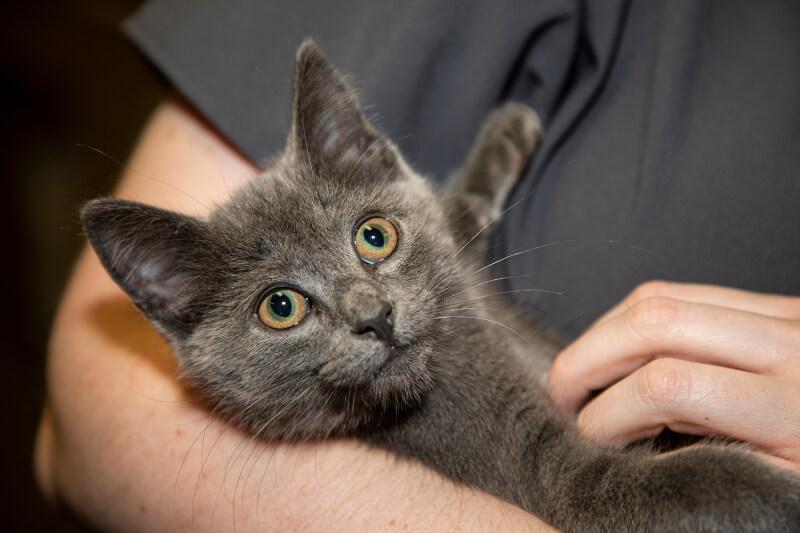 Cats are becoming the pet of choice and the number of cat owners is increasing at a faster rate than the number of dog owners. Animal Hospital of Statesville is a certified Cat Friendly Practice. We evaluated all aspects of our practice from a cat's perspective to create a more positive experience for our feline patients.
CATS ARE LESS LIKELY TO VISIT THE VETERINARIAN THAN DOGS
41% of cat owners visit the veterinarian only for vaccinations.
39% of cat owners say they would only take their cat to the veterinarian if they were sick.
60% of cat owners report that their cat hates going to the veterinarian.
38% of cat owners report they get stressed just thinking about bringing their cat to the veterinarian.
COMMON STRESSORS
Cats do not like the carrier and traveling to the practice.
Pet owners are stressed by getting the cat into the carrier and transporting an anxious cat.
Some cat owners feel practices may not be aware of how to handle fearful or stressed cats.
THE AMERICAN ASSOCIATION OF FELINE PRACTITIONERS (AAFP) OFFERS THE CAT FRIENDLY PRACTICE PROGRAM
Practices need to understand cats and their distinct needs.
Practices need to provide an atmosphere that allows for a positive visit.
CAT FRIENDLY PRACTICES ELEVATE HEALTHCARE
Staff Training & Education About Cats
Physical Design & Environment
Appropriate Equipment to Meet Feline Needs
The "Cat Advocate"
THE RIGHT STAFF: (CAT FRIENDLY PRACTICE STAFF)
Understand cat owners and the challenges of transporting cats.
Are familiar with cats and can take note of the behavior.
Know how to handle cats.
Are familiar with "cat friendly" techniques
Are interested in the best wellness and preventive care for your cat
STAFF IS READY, WILLING AND ABLE TO ASSIST
Our Staff Will:
Advise cat owners on the most appropriate way to transport the cat to the practice.
Help cats and owners have a positive visit.
Provide a warm, friendly welcome upon arrival.
Exhibit good cat handling techniques.
Provide timely, detailed patient updates.
Enroll in continuing education courses.
Our Physical Environment Has Cats In Mind
A Cat Friendly Practice has a different look and feel to accommodate the cat's distinct needs.
THE EXAMINATION ROOM
Clean and hygienic
Safe and spacious
Comfortable
WELL-EQUIPPED FOR CATS
Essential equipment appropriate for feline use.
A thorough consultation process allowing time for cat to become acclimated.
Ability to hospitalize cats in a comfortable setting to meet their unique needs.
We love cats as much as you do. That is why we are a Cat Friendly Practice.
WE INVITE YOU TO:
Tour our practice.
Speak to our staff.
See for yourself that Cat Friendly Practices can make a difference in the practice experience and health of your cat.

CAT OWNERS BROCHURE TO DOWNLOAD IS:
ACTUAL CAT OWNER WEBSITE IS:
Cat Friendly Community for pet owners