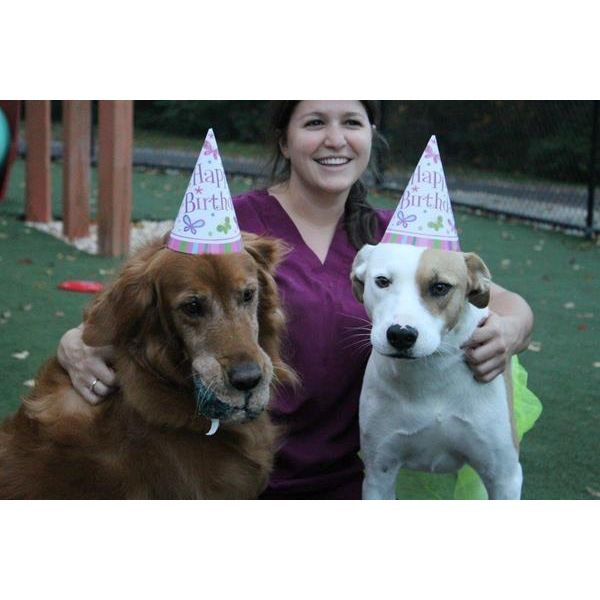 Our pet quarters opened in 1985 to offer the pet-owning public an opportunity to have their pets cared for in a loving and safe environment while they are away. The Pet Quarters Resort & Spa was completely remodeled by March of 2009. We also offer Day Care for pets in need of companionship during the day. All pets' vaccinations must be current to schedule a lodging appointment. Vaccines required for dogs are Rabies, DHPP, Bordetella and, as of March 1, 2019, Canine Bivalent Influenza. Felines are required to have current Rabies, FVRCP and Bordetella vaccines. If you are not an active client of Animal Hospital of Statesville, we require your pets to have an examination by one of our veterinarians prior to boarding with us. This is for their benefit!!!
TENDER LOVING CARE
TLC is for any dog that enjoys special attention. This can be running and playing in our enclosed exercise area or just lost of hugs and kisses. TLC is great for reassuring the first time guest or for the active pet that needs to use up energy. It is also very beneficial for the senior dog that needs daily activity to prevent stiffening.
PET QUARTERS RESORT & SPA ADVANTAGES
A doctor is always available should problems arise while you are away. If an emergency occurs after hours during your pet's stay, there will be an additional charge for the veterinarian to come in and examine and treat your pet in addition to our regular exam fee. We DO require all pets to have been seen BY ONE OF OUR AHS VETERINARIANS within a year prior to boarding in our Resort. So, if you are not an Animal Hospital of Statesville client, you will need to make an appointment to have your dog or cat seen by one of OUR veterinarians before we can make a reservation for them. This is because if your pet has a health issue, we need to KNOW your pet, and know what his/her issues are so we may treat appropriately. Your pet's health and safety are our top concern and that is why we require an examination for non-AHS pets, OR pets we haven't seen for awhile, prior to boarding with us. Also, needed medical attention such as surgeries, dentals, yearly exams and wellness preventatives or other procedures, can be completed during your pet's stay so he or she can be fully recovered when you return. Additionally, your pet can be bathed and brushed for a pleasant family reunion upon your return home. Perhaps the biggest advantage of leaving your pet at the "Pet Quarters Resort & Spa" is our compassionate and loyal staff. We are committed to the wellbeing and comfort of your pet.
CANINE LODGING
Our modern facility offers indoor suites for dogs in a climate-controlled environment. We offer Studio Suites, Master Suites and Twin Suites. Basic bedding is provided for all guests. However, if you'd like to bring your dog's favorite bedding, that's fine, too! We also have eight Luxury Suites that have a raised cot or blanket, whichever your pet prefers, for sleep time. Pets are fed a dry, canned or a mixed diet. However, we will gladly use the brand and type of food that you provide. If you bring your own food or treats we ask that you place them in an airtight container.
DUE TO LIMITED SPACE FOR STORAGE WE ASK THAT YOU DO NOT BRING WHOLE BAGS OF FOOD, BLANKETS OR LARGE CONTAINERS.