Stone
Canine Pet of the Month - May 2022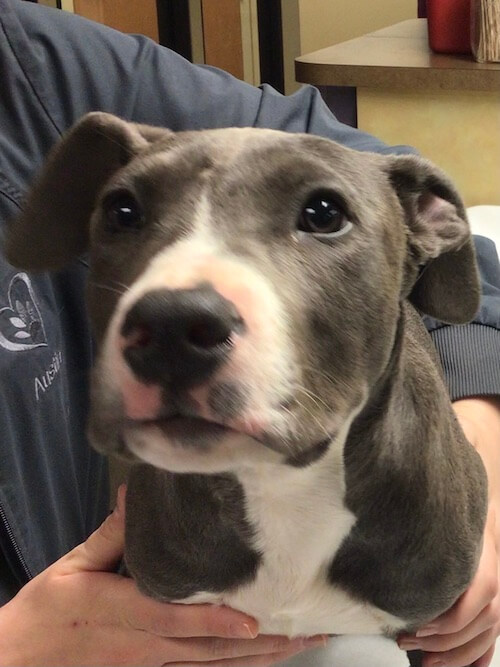 Stone is a cute little Pit Bull puppy, 3-4 months of age. Stone presented with about 5 inches of rectal tissue protruding and dangling from his rectum. Stone was bright and alert and the tissue was moist and not badly damaged. Likely, Stone had developed diarrhea and started straining to defecate and the tissues of the rectum protruded which facilitated more straining leading to more rectal tissue to prolapse. Stone was sedated and with much effort, the swollen rectal tissue was replaced and sutured into place with a purse-string suture in the rectum to prevent recurrence. Underlying causes of diarrhea were investigated and treated. Intestinal parasites and parvovirus are the largest diarrhea concerns in puppies this age. Stone was clear of both after testing, but we treated for intestinal parasites anyway in case there were worms in the intestine not shedding eggs. Stone was treated with metronidazole. This is an antibiotic and anti-inflammatory to stop diarrhea and inflammation. Stone was given gabapentin for pain. Gabapentin is also a bit sedating to prevent straining. Stone did well with the purse string suture and left it in place. He defecated through the small opening. The suture was removed a week later. If the prolapse recurs, aggressive surgery is often needed. Stone is currently doing well. Stone was an interesting case and neat little puppy. That is why he is our canine Pet of the Month.
Axle
Feline Pet of the Month - May 2022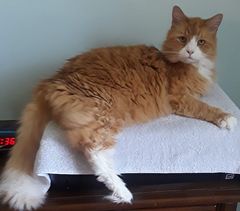 Axle is a seventeen-year-old cat that presented to the emergency clinic in January for weight loss, vomiting and lethargy. Blood screening performed there indicated moderate kidney disease and dehydration. Axle came to us the next morning for continued care.
On presentation, Axle had lost 4 pounds since his last visit 3 years prior. Most of his weight loss was due to loss of muscle mass. He was dehydrated and very mopey. A urinalysis did indicate kidneys that were not only not detoxifying the blood appropriately, but not filtering it well either.
Renal disease is not uncommon in cats as they age. Treatment, though, can be quite frustrating. It focuses on special diets and forcing the cat's kidneys to work. For me or you, this would mean dialysis, where a machine cleanses our blood. While that can be done in pets, it is cost-prohibitive for most clients. The next best option is called diuresis. This is forcing the kidneys to work by giving them extra fluids to process. The best way to do this is with an IV catheter and hospitalization. While this is a great short-term option, it is not a long-term plan. The final way is by giving fluids under the skin and letting the body absorb them naturally. This was the option chosen with Axle. Now, we had to determine the amount and frequency.
We started with 100 ml twice weekly and though Axle felt better, his kidney values continued to climb. We slowly worked the amount and frequency up and eventually the values began to improve. Axle started eating better and his weight started improving. We finally settled on 250mls three times a week.
Axle is eating well, his kidney values have almost normalized, and he has gained over 1 pound. While we know that this treatment is not a cure, we hope to maintain Axle for a long time. For these reasons Axle is this month's feline Pet of the Month.
Freya
Canine Pet of the Month - April 2022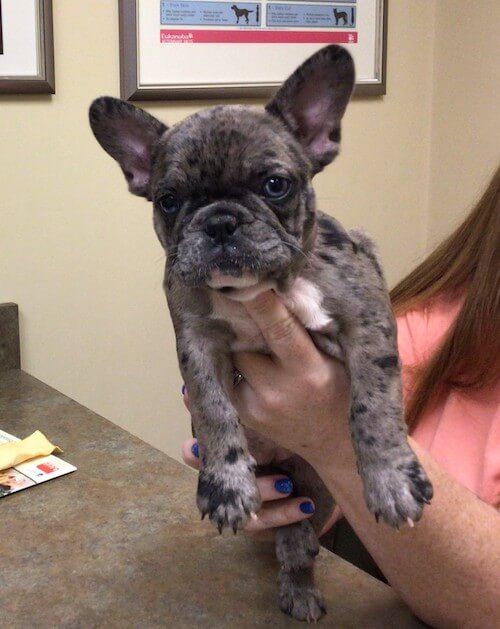 Freya is a very sweet and adorable puppy with a very common facial conformation. Freya is a French Bulldog. French Bulldogs have what is called Brachycephalic Syndrome. This is a common syndrome in "smushed face" dogs like Freya, other French Bulldogs, English Bulldogs, and Pugs to name a few. Brachycephalic Syndrome may not seem like a problem to many people as many dogs may never appear to have significant issues, but it is a condition that needs to be understood and respected.

Because these dogs have the shorter nose/compressed faces, they have a few common abnormalities that can cause problems. The most commonly discussed components of Brachycephalic Syndrome include : Stenotic Nares, Elongated Soft Palate, Hypoplastic Trachea, and sometimes Everted Laryngeal Saccules. Stenotic Nares are collapsed nostril openings causing constriction of airflow. Elongated Soft Palate happens since the soft palate in the top of the mouth is essentially the same length as a longer nosed dog, so when the dog's nose is not as long, the extra tissue flops in the back of the throat potentially covering the air flow to the trachea. Hypoplastic Trachea means that the windpipe is not the appropriate diameter for the size or type of dog, also restricting some airflow when the dogs breathe. Everted Laryngeal Saccules can happen sometimes when there is too much pressure in the back of the throat when these dogs try to breathe. Some think of it like "swollen tonsils" which can also restrict normal breathing.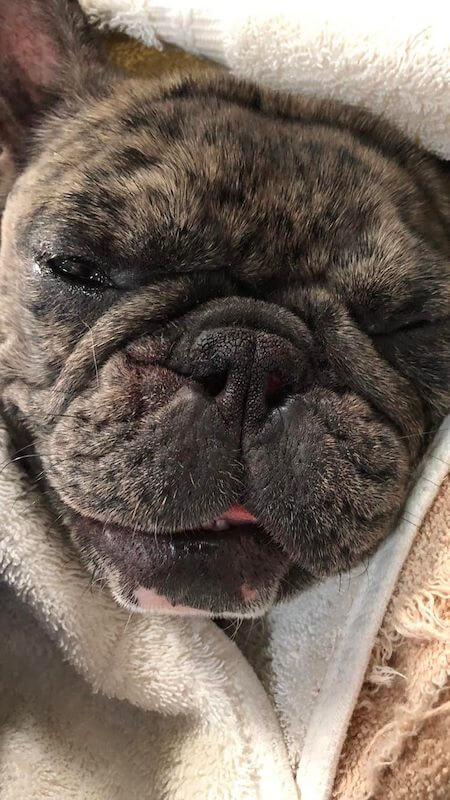 While these changes are "normal" for these breeds, it doesn't mean it comes without potential complications or concerns. Some dogs have issues so severe that they are unable to even perform normal everyday activities without struggling to breathe and having life threatening complications. Even dogs that appear to compensate well for normal activities are still at higher risk for getting overheated easily and struggle to breathe with differing degrees of exertion and activity. It is important that care is taken to not let dogs of these breeds get overheated or too worked up.
While there is nothing that can be done to correct several components of Brachycephalic Syndrome, there are a few things that can be done. We have the ability to surgically improve the Stenotic Nares and the Elongated Soft Palate. By opening the nares wider, breathing of these breeds can be improved. By removing part of the soft palate to make it shorter, breathing of these breeds can be improved and some chronic changes may be improved as well.
It is most common for these procedures to be performed when the puppies are spayed or neutered about 6-8 months old to help get maximum long-term benefit from the changes. Freya had her stenotic nares surgically repaired when spayed and now she has much wider openings to allow better airflow! Freya did great with her surgery and looked great after recovery. We are happy to help Freya's situation and improve her breathing and quality of life. For this teaching moment, Freya gets to be the Animal Hospital of Statesville's canine Pet of the Month!
Floyd
Feline Pet of the Month - April 2022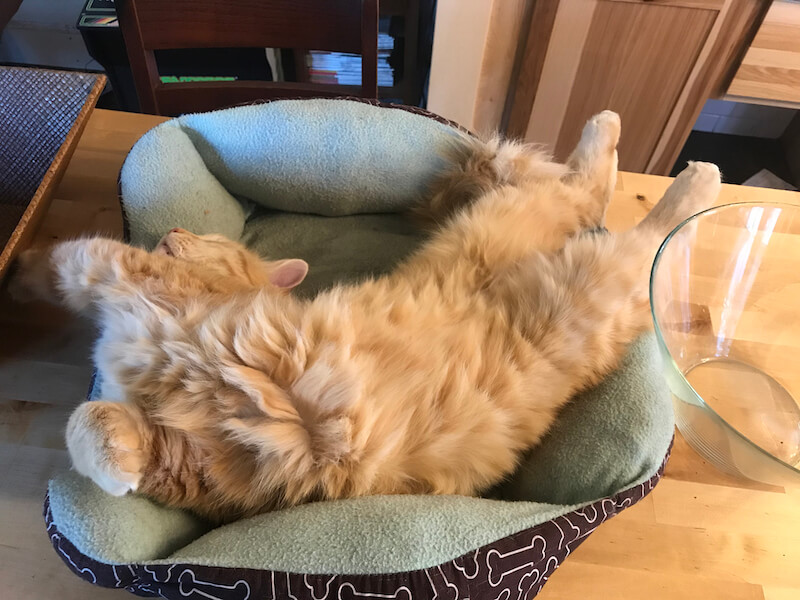 Floyd is a handsome 2-year-old kitty who enjoys being outside. He recently came to see us due to a very traumatic event. He had been shot with an arrow and the arrow was lodge in his body. His owners thought surely he would die, but he is a survivor. They reluctantly removed the arrow as they knew he would be unable to function with the arrow in the position it was in. This is not always advisable as we do not know what damage has been done by the impact and this could cause more damage if not done in a controlled setting in the hospital.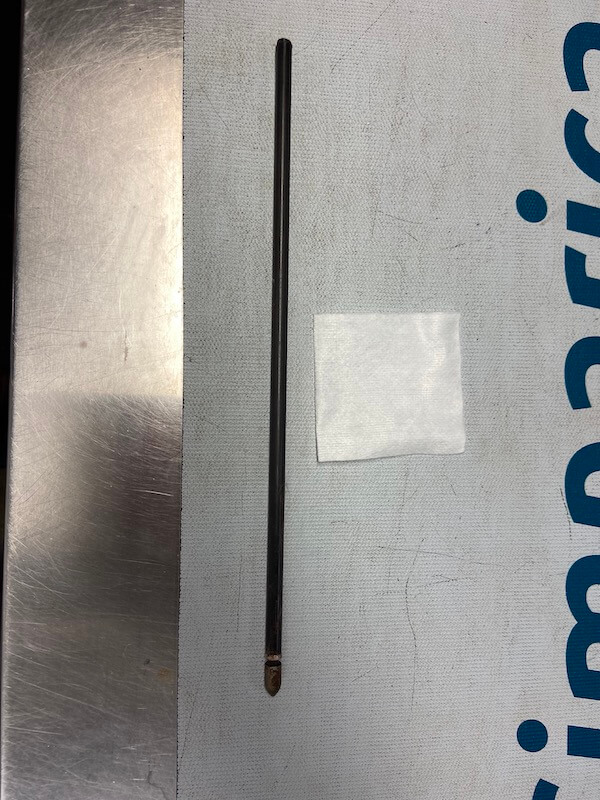 Fortunately for Floyd, the arrow was able to be removed without further insult. His owners believe he was targeted for this incident which is more than tragic! The arrow miraculously went through his skin and then exited superficial to his spine and internal organs which could have either paralyzed him or killed him on impact.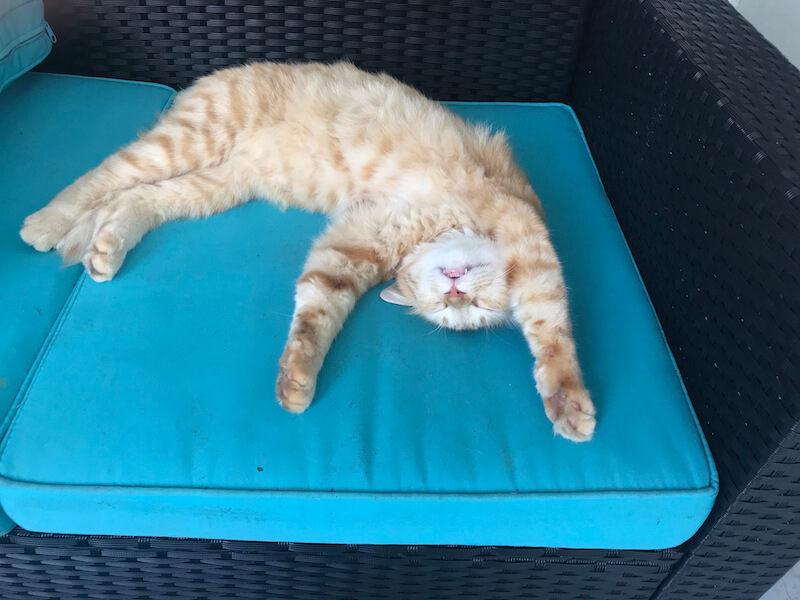 We were able to treat his wounds and manage his pain while his body healed. There were no major organs affected. He has since made a full recovery and even his fur is growing back. We are amazed at how brave he was throughout this entire ordeal. He was the perfect patient and did not complain about any of the treatment he received. This is why we selected Floyd to be our feline Pet of the Month!
Diesel
Canine Pet of the Month - March 2022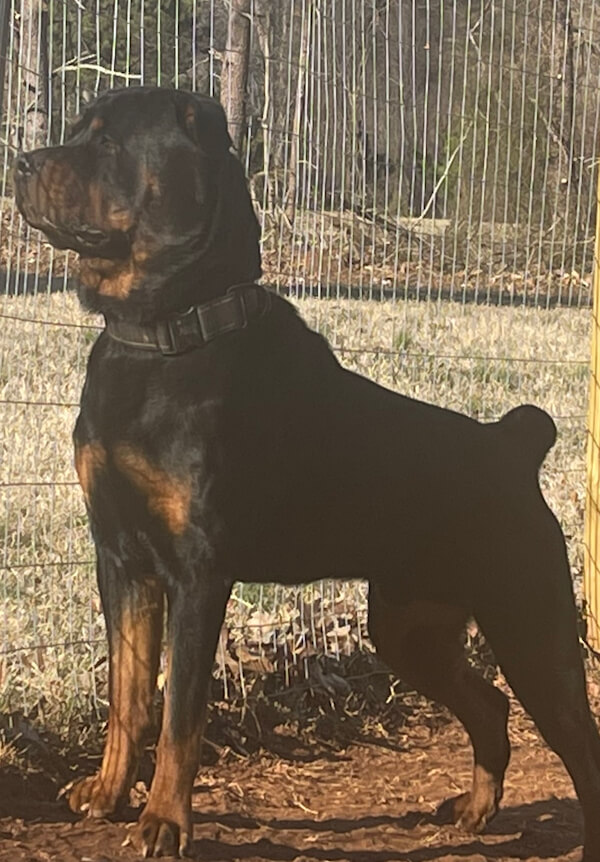 Our pets manifest discomfort in many ways. Many pets may vocalize or whine when in pain, some retreat or hide and some exhibit behavioral changes. The Pet of the Month this month is Diesel, a 2-year-old Rottweiler, that presented for bilateral entropion. An entropion is an eye condition that occurs when the eyelids do not fit the eye well. The eyelids essentially roll inwards into the eye itself, exposing the very sensitive cornea and conjunctiva to the haired skin on the eyelid. This condition can be extremely painful causing chronic irritation to the eye and sometimes resulting in permanent damage.
When Diesel presented, both of his eyes were swollen and painful, he retreated to the corner of the exam room and postured in an aggressive way to the staff while trying to examine him. Shortly after, Diesel came in for surgery and both of his eyelids were surgically altered to correct his entropion.
Around two weeks later Diesel came in for a follow up exam and suture removal. Diesel's behavior had drastically changed. He was doing great, happy to be around people and came up to everyone for petting and praise.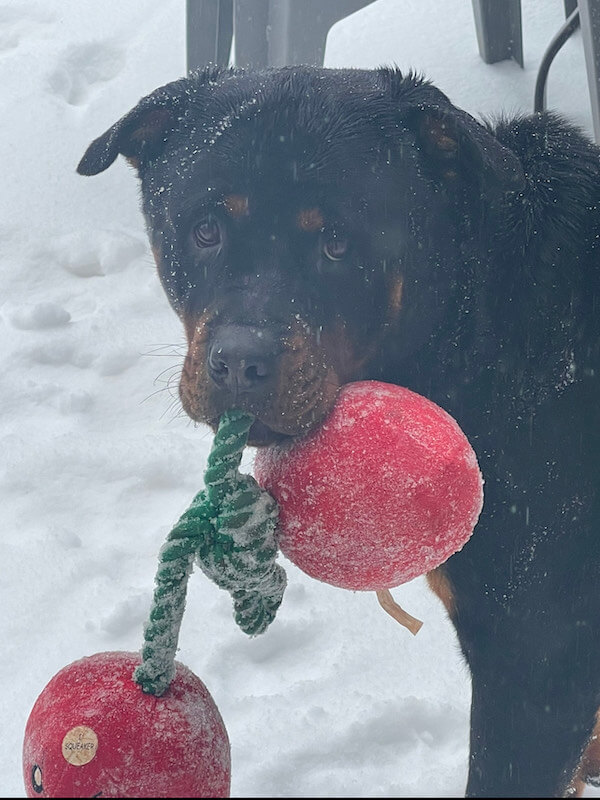 As discussed before, Diesel's aggression was a manifestation of his pain. Our pets do not understand where pain associated with malformation, injury or arthritis is directly coming from, which can sometimes cause behavioral changes like the ones seen here. Diesel's eyes were a source of chronic pain which caused him to become aggressive with his surroundings. Once his eyes healed after surgery, he was friendly and approachable.
This case makes an important point about pain and discomfort in our pets. Our pets do not show pain in the same way people do. Most commonly your pet may just "act different", possibly not wanted to do typical activities or hiding. Just because a pet is not crying out or actively limping does not mean they are not experiencing pain. If you have any questions about pain management in your pet, please call us at the Animal Hospital of Statesville.
Baxter
Feline Pet of the Month - March 2022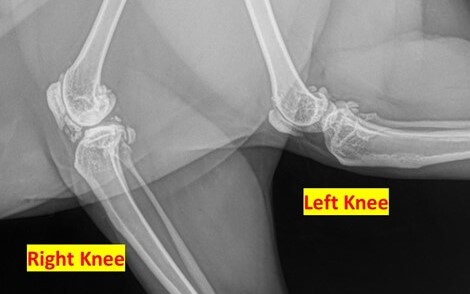 As a survival trait our pets have maintained from the wild, cats are masters at disguising their own health issues. From urinary and dental issues to arthritic pain, cats are commonly under or undiagnosed with these issues until the problem has become much more severe.
Our feline Pet of The Month this month is Baxter, a 5-year-old domestic shorthair that came to the Animal Hospital of Statesville for lameness issues in his hind limbs. After examining Baxter, his right stifle or knee was identified to be the cause of his pain. Radiographs of his knee were taken, and his right knee has severe osteoarthritic changes probably form an old injury. Baxter's radiograph is pictured here.
Cats are notoriously hard to medicate orally and are more sensitive to common NSAIDs used in dogs for osteoarthritis. In Baxter's case, typical pain medications were not controlling his pain well enough which necessitated the need for alternative treatment.
Joint injections, which are common in human medicine, provide pain and inflammation relief directly at the source of lameness. Baxter's right knee was injected with similar medications used in human medicine to help alleviate his pain. After a few weeks, Baxter is doing much better and can get around and jump more normally.
Baxter's case is a good example of alternative treatments available for our patients for treatment of osteoarthritis pain. Joint injection is one of those services offered here at the Animal Hospital of Statesville and has shown promising results. If you think your pet could benefit from treatments such as these for osteoarthritic pain, please call us at the Animal Hospital of Statesville to schedule an appointment.
Chloe
Canine Pet of the Month - February 2022
Chloe is a 10-year-old female Collie that presented as a second opinion on a mass in the abdomen. Chloe had had some swelling of the vulva and licking the vulva a lot. In her investigation of this issue, an abdominal mass was found at the prior veterinary clinic and exploratory surgery was recommended. The owner was considering surgery but wanted to be sure it was the right thing for Chloe. Chloe also had a history, prior to the owner obtaining her as a rescue dog, of having an ovarian remnant. This is a piece of ovary left behind inadvertently during a spay. This tissue will intermittently produce estrogen and the female dog may show signs of estrus or heat although she cannot breed or have puppies. Chloe had had some subtle estrus signs years ago but not in a long time according to the owner. It was suspected that this current vulvar swelling currently was related to this potential ovarian remnant. An ultrasound was performed, and a large cystic fluid-filled mass under a very small urinary bladder was found. The mass encompassed most of the abdomen. There was concern that this mass could be an abscess at the old uterine stump from a prior surgery. We did an needle aspirate, guided by ultrasound. Cystic fluid was found. In addition, we performed a normal blood screen, indicating this cystic mass was unlikely to be infection. A kidney-like mass was also noted in the left cranial abdomen. This was either an undersized kidney, a tumor, or an old ovarian remnant. Due to the size of the mass and decreasing quality of life that Chloe was facing, we recommended exploratory surgery as well after normal blood work and chest x rays were obtained. Chloe was cleared for surgery. The large cystic mass was removed and determined to be a pocket of cystic vagina due to hyperplasia or proliferation of the tissue. The mass in the cranial abdomen was an ovarian remnant that had turned into a tumor and was secreting estrogen. The abnormal hormone levels likely led to the cystic vaginal hyperplasia. The pathology indicated full removal of the ovarian tumor and a good prognosis. Post operatively, Chloe has done well. All her vulvar swelling has resolved, and Chloe feels good. Chloe's case was difficult to sort out and very unusual and has a happy ending. That is why Chloe is our Canine Pet of the Month.
Blue
Feline Pet of the Month - February 2022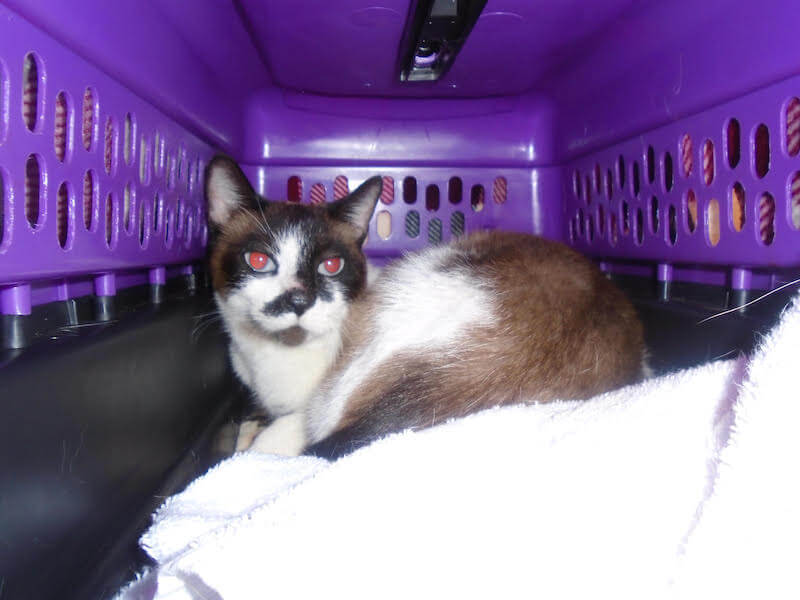 Blue is a very fortunate kitty indeed. Blue is a young cat who was being cared for as a stray by one of our clients for many months. She was able to catch him and called to bring him in to be "fixed". We routinely scan all the pets who come to us for surgery with our physical exam and, sure enough, a microchip had been placed in Blue. We called the microchip company who was able to reach out to the true owner who was living in Myrtle Beach.
The story behind Blue was very sad. His owner was in the process of moving to Myrtle Beach. The movers had packed up the truck and she was in the process of packing her car. Blue was placed in his cat carrier and positioned in the back seat as his owner went back for another load. Unbeknownst to her, the carrier door was not latched completely. Blue was able to knock the door open and escape from the car. His owner looked for him for 2 hours but eventually had to leave to catch up with the movers. She had given him up for lost. Six months passed.
Well, Blue apparently found another loving soul who adopted him until he was captured for his surgery. The client who found him was overjoyed that his original owner had been found and his original owner drove up the next day to get him. The reunion was priceless.
Blue's situation is a perfect example of why we recommend all pets be microchipped AND registered. If either one of those steps had not been followed, Blue would never have been reunited with his original owner. For these reasons Blue is AHS's feline Pet of the Month.
Maddyn Underwood
Canine Pet of the Month - January 2022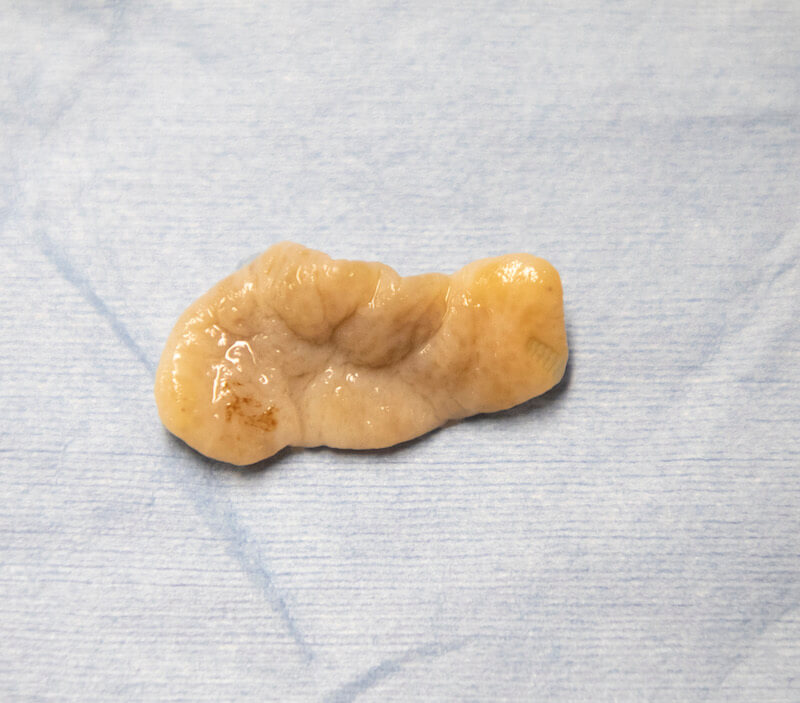 This month's canine Pet of the Month is Maddyn, a 7-year-old Pit Bull mix. Maddyn was here undergoing a routine dental cleaning. Upon oral exam, a tongue-like mass was identified in the back of her throat near her trachea (windpipe). This mass was removed with no issues. In conversation with Maddyn's owner post-dental, it was discovered that Maddyn had a history of coughing after exercise. We now believe that the excessive tissue/growth was the cause. Maddyn is now doing well after her 2-week follow up.
This is a great case showing the importance of regular dental care for our pets. In a full dental procedure, the cleaning is performed, but anesthesia allows us to perform full oral exams at that time, as well, enabling us to find issues previously unknown. Regular exams and dental cleanings are important, not only for dental health, but oral health as well.
Damon
Feline Pet of the Month - January 2022
Damon is a sweet and very handsome kitty that presented for some eye troubles. He normally stays indoors only, but he slipped out the door one time back in the summer and was missing for a few weeks!! Luckily, he was found again and returned home. At that time, his owners noted that his eye seemed a little "off", but didn't seem serious and he didn't act like anything was wrong, so they just monitored him at home.
For months, things seemed stable, unchanged, and he was comfortable and happy. Over time, his eye went from more cloudy, to less cloudy, then more cloudy again and started with some discharge so they decided to bring him in for evaluation. On exam, Damon did not act painful or resistant for evaluation of the eye. It had edema in the cornea and some older changes likely from whatever happened back in the summer. One of the more noted abnormalities of his exam was that the eye was soft but misshapen.
With the history, the potential trauma when he was gone for 2 weeks, and the exam findings, it was determined that he likely had some trauma to the eye that caused the very thin corneal layer to break open. His eye had ruptured! His body tried its best to prevent the internal contents of the eye from leaking out and tried to seal the hole the best it could, and it did a pretty good job, considering! However, the eye was clearly abnormal and was not able to be repaired to its original state or function.
Although it was not obvious that he was in pain, it can be hard to tell with cats as they are very good at hiding pain and adjusting to things that happen to them just to move on with their lives. Given that the eye was beyond repair, the eye started to cause changes leading to some discharge and potentially external inflammation, and he could not see out of that eye, Damon's owners decided the best course of action would be to remove the eye. He had the surgery done, recovered wonderfully, and is doing great!!
Damon is the AHS Cat of the month for several reasons. One, of course, is that he is a fantastic boy, recovered from his surgery wonderfully, and is doing great with only one eye! But there are 2 other reasons I want to highlight in his case since it is meant to be a learning situation for others. First, there are many reasons for surgical removal of an eye on a pet. Many people are initially shocked to hear anyone suggest such a procedure for their pet and worry that it is too drastic of a procedure. They worry that it is not fair or a good quality of life to remove an eye. This can be far from true in many cases! If we are recommending removal of the eye, it is likely because the eye is no longer functional, may be painful for the animal, and/or may create a painful situation later in life. So, it is actually a positive move for the pet to remove the eye and they can do very very well with only 1 eye! Second, I want to highlight how serious an eye thing can potentially be or become even if it doesn't look too bad! He seemed fine and his eye didn't look that abnormal, but he had actually ruptured his eye at some point!
We are so happy Damon is doing well and back to his normal antics and happy to have him as the AHS Feline Pet of the Month!
Mac
Canine Pet of the Month - October 2021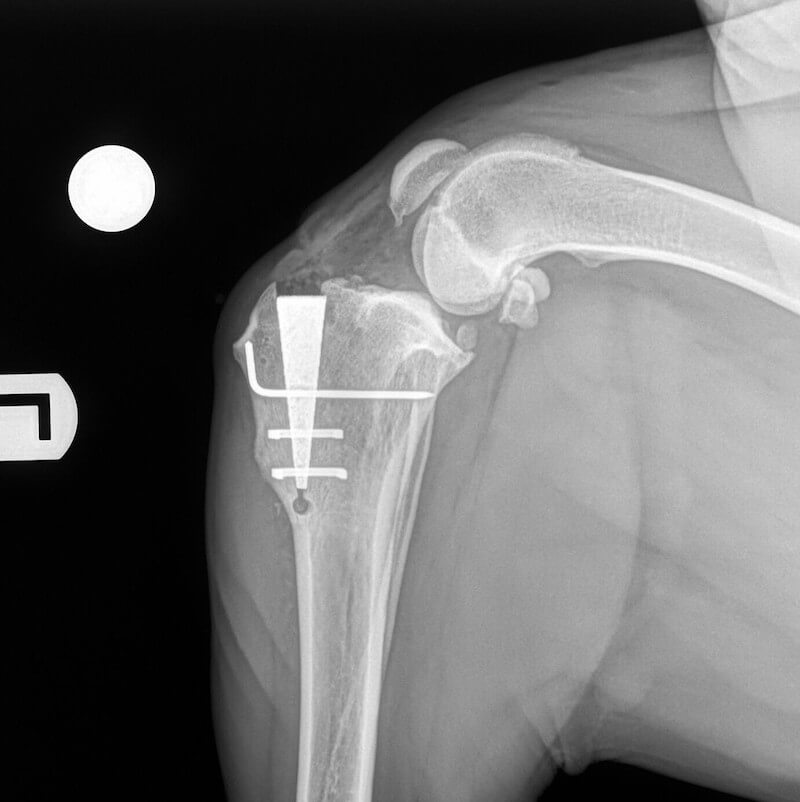 This month's pet of the month is Mac. Mac was diagnosed with a ruptured cranial cruciate ligament in his left knee. Cruciate ligament rupture/injuries are unfortunately common in dogs and a common cause of chronic lameness. The cruciate ligaments serve to stabilize the knee joint and injury or rupture to the cranial cruciate ligament leads to joint laxity, pain, and the development of arthritis. Mac underwent a new procedure offered here at the Animal Hospital of Statesville, the Modified Maquet Procedure or MMP.
The MMP is a surgical stabilization of the knee joint once a cranial cruciate ligament injury has occurred. The procedure entails inserting a titanium wedge into the tibia and with help from the quadriceps and patellar tendon stabilize the knee joint.
In the radiograph you can see the result of the surgery including the titanium wedge, a bone pin and staple (2 staples in Mac's case due to his large size). This procedure not only stabilizes the injured stifle joint but unlike some other cruciate surgeries, allows the patient to return to athletic function quicker with less strict cage rest.
After 6 weeks of recovery, Mac was doing great and was approved for off leash exercise. He continues to do well and is back to pre-injury activity.
If you have any questions about this surgery, please give us a call and we would be happy to provide more information.
Diesel
Feline Pet of the Month - October 2021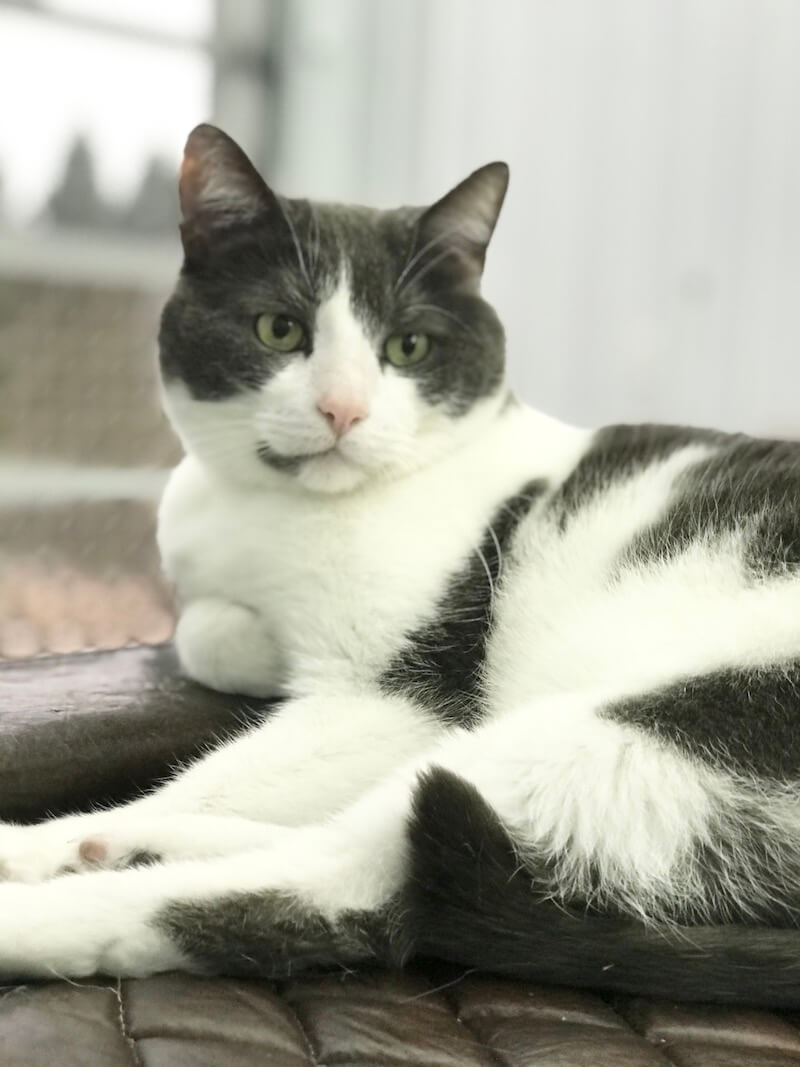 Diesel is a 7-year-old sweet male kitty that presented one year ago not eating and losing weight. Diesel had a history of inflammatory bowel disease well-controlled on prescription food. Diesel's blood work indicated severe kidney insufficiency or failure. Diesel was started on iv fluids to rehydrate. Testing was started to see if an underlying cause could be determined. Diesel had bacterial cultures of the urine, blood pressure, x-rays and ultrasound. We were looking for concurrent infection, hypertension and bladder or kidney stones. Nothing could be found. Diesel started to feel better and was transitioned to a special kidney diet that may also control his inflammatory bowel disease. Cats with kidney failure have trouble maintaining their hydration adequately. Sterile fluids injected under the skin daily can help improve the quality of life of the kitty. Diesel's owner was very dedicated and learned to do this at home daily. Diesel was also started on aluminum hydroxide powder with his prescription food to bind phosphorus. Phosphorus often increases in the body as the kidney cannot excrete it properly. Over time this worsens quality of life as well as kidney function. Diesel's kidney blood work continued to improve with a few episodes of decompensation, but a year later, is doing very well. Eventually Diesel's kidney function will decline. So far Diesel has beat the odds and that is why he is our feline Pet of the Month.
---
Zora
Canine Pet of the Month August 2021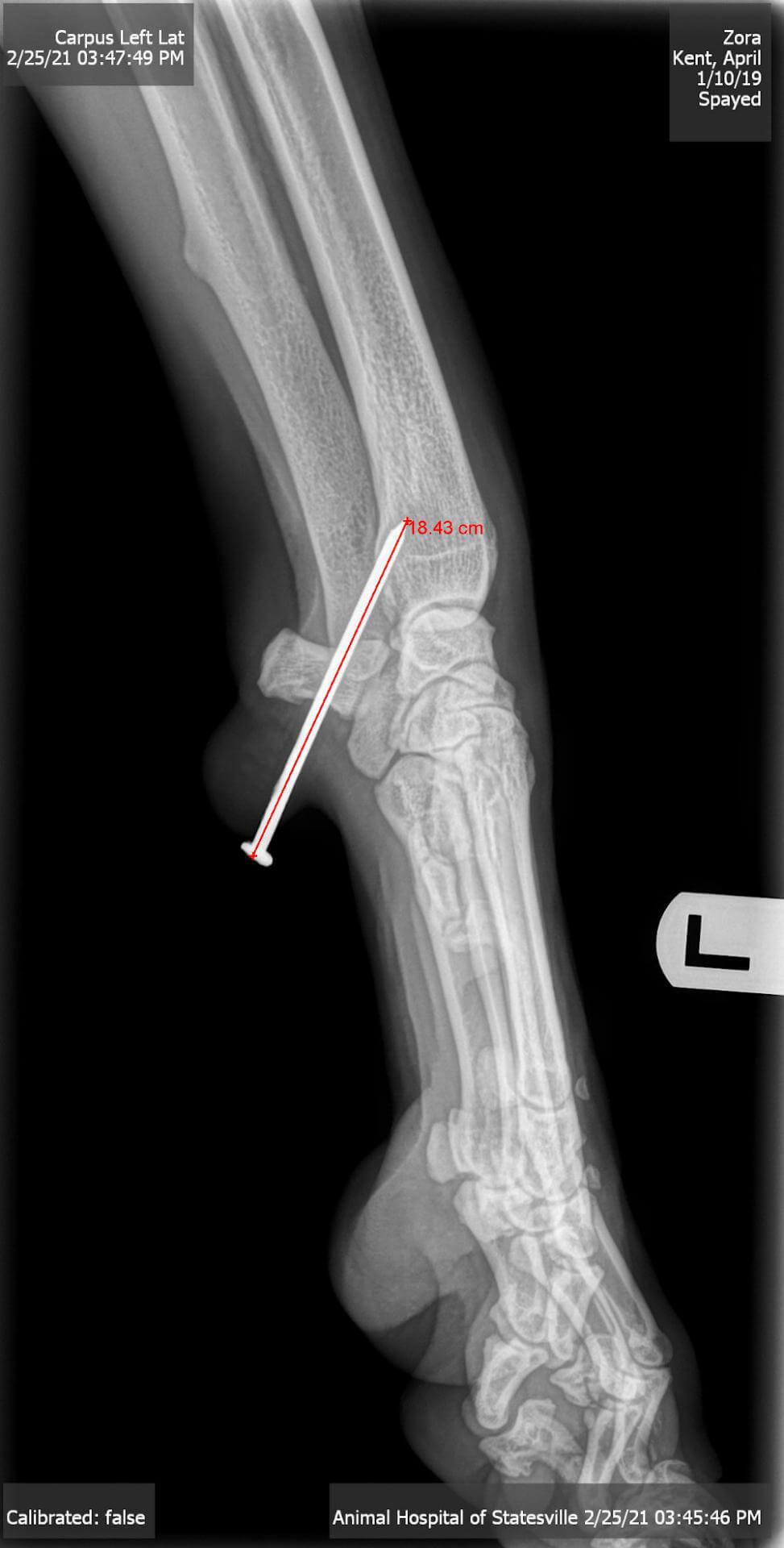 Zora was an 18-month-old, 128-pound Great Dane that we had seen since she was 20 pounds at 8 weeks of age. She has always been a very active and rambunctious puppy but also very healthy and happy.
She presented to us with an acute-onset left front lameness after being out playing in the mulch with her companion. While she would use the leg, she had a pronounced limp as she walked. On closer inspection a metallic object was noted sticking out from her pad just behind her wrist. It was firmly in place. Zora was sedated and X-rays were taken. We were all surprised when we saw a 2.5-inch nail wedged through the pad and into the area of her wrist joint. We were able to back the nail out, but it was with significant resistance. Post-operative X-rays did not indicate an issue with the bone, but we were still worried about the wrist joint. Zora was started on antibiotics to help prevent tetanus (yes, dogs can get tetanus), pain management and the owners hot-packed the area several times a day. The wound drained well and eventually healed up nicely.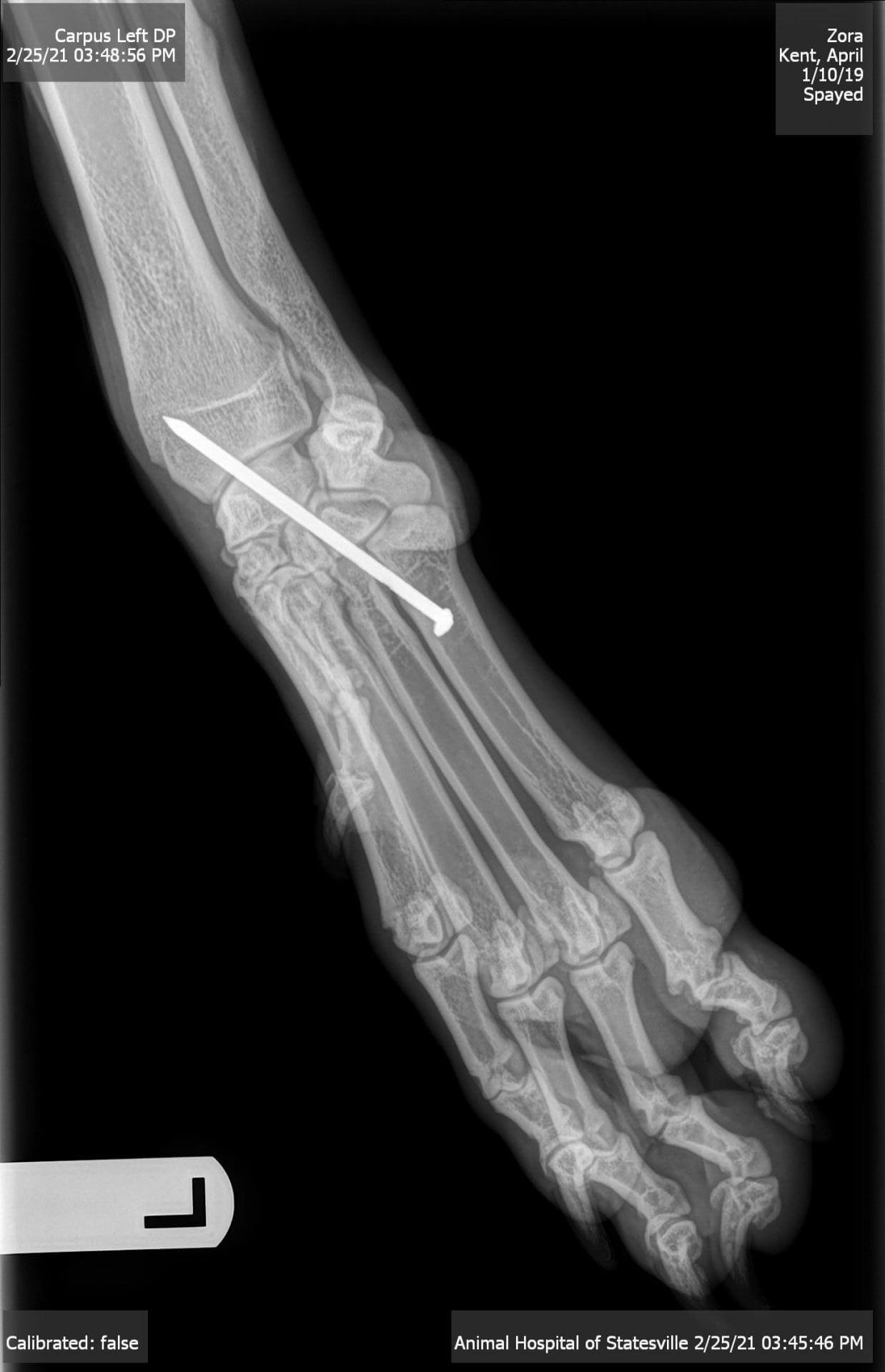 Zora's case shows how a rambunctious puppy can get into trouble even when they are being monitored appropriately. She recovered well through what had to be a very painful injury and is now running and playing like crazy. Because she did so well with her strange presentation, Zora is AHS's canine Pet of the Month.
Lily
Feline Pet of the Month July 2021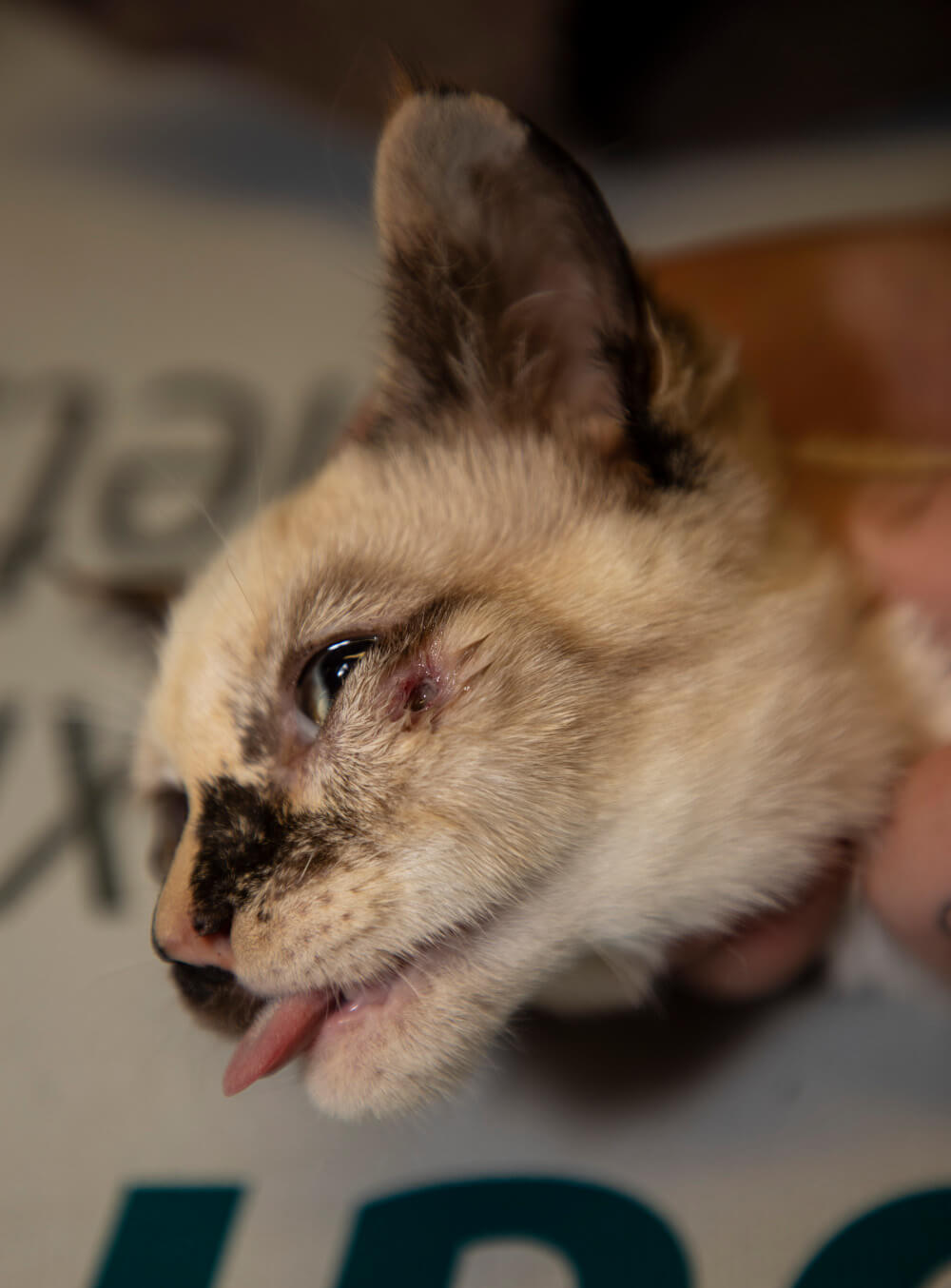 Lily is a sweet young kitten that presented with a swelling on the side of her face. The swelling looked suspiciously like an abscess. On closer inspection, there was a small hole in the center. There also appeared to be something moving below the hole in the skin. A cuterebra grub was suspected. Lily was sedated and the hole opened just slightly and a 4 mm grub was removed entirely. The pocket was flushed with antiseptic and antibiotics were instituted.
A cuterebra is a fly that lays eggs on grass, mulch, and near rodent burrows. The eggs hatch into larvae suddenly when wildlife such as rabbits wander by. These larvae then burrow into skin defects and natural cavities to complete their life cycle. On occasion, an unsuspecting puppy or kitten becomes infected. Removal of the larva and treatment for secondary infection lead to resolution and a great prognosis.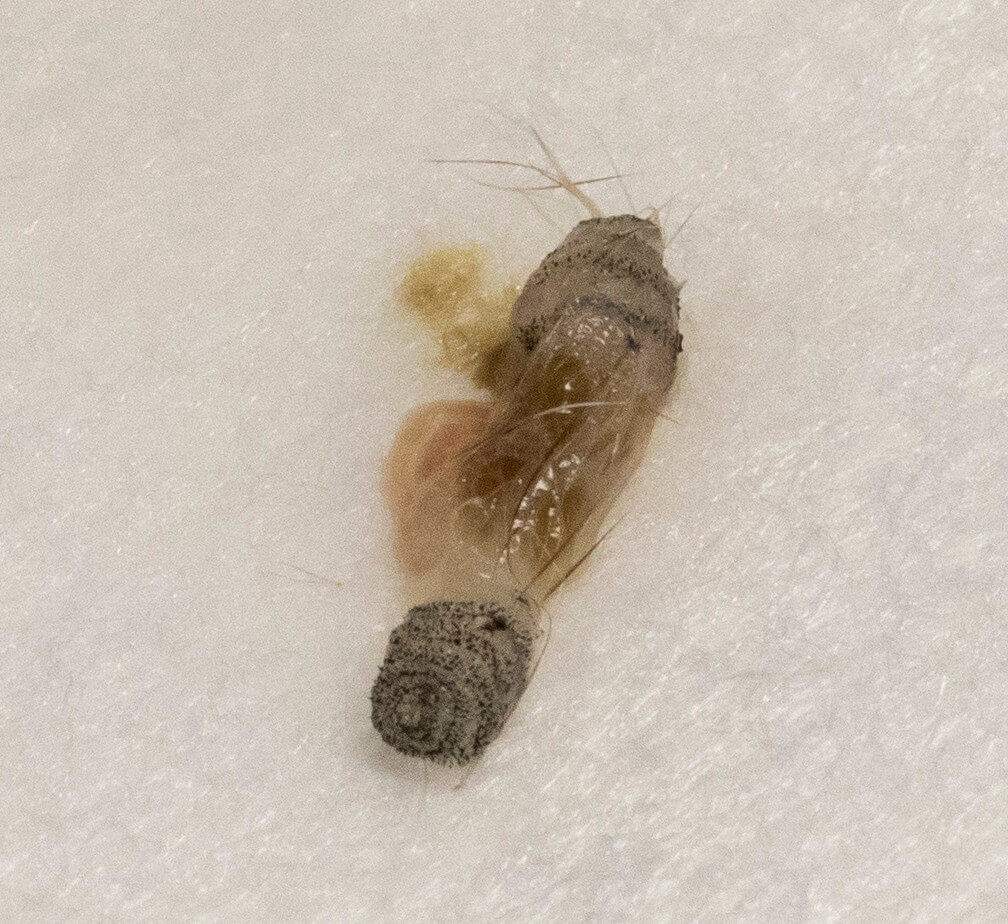 Cuterebrae are not commonly seen at the Animal Hospital. That is why Lily is our AHS Pet of the Month.
---
Thor
Canine Pet of the Month July 2021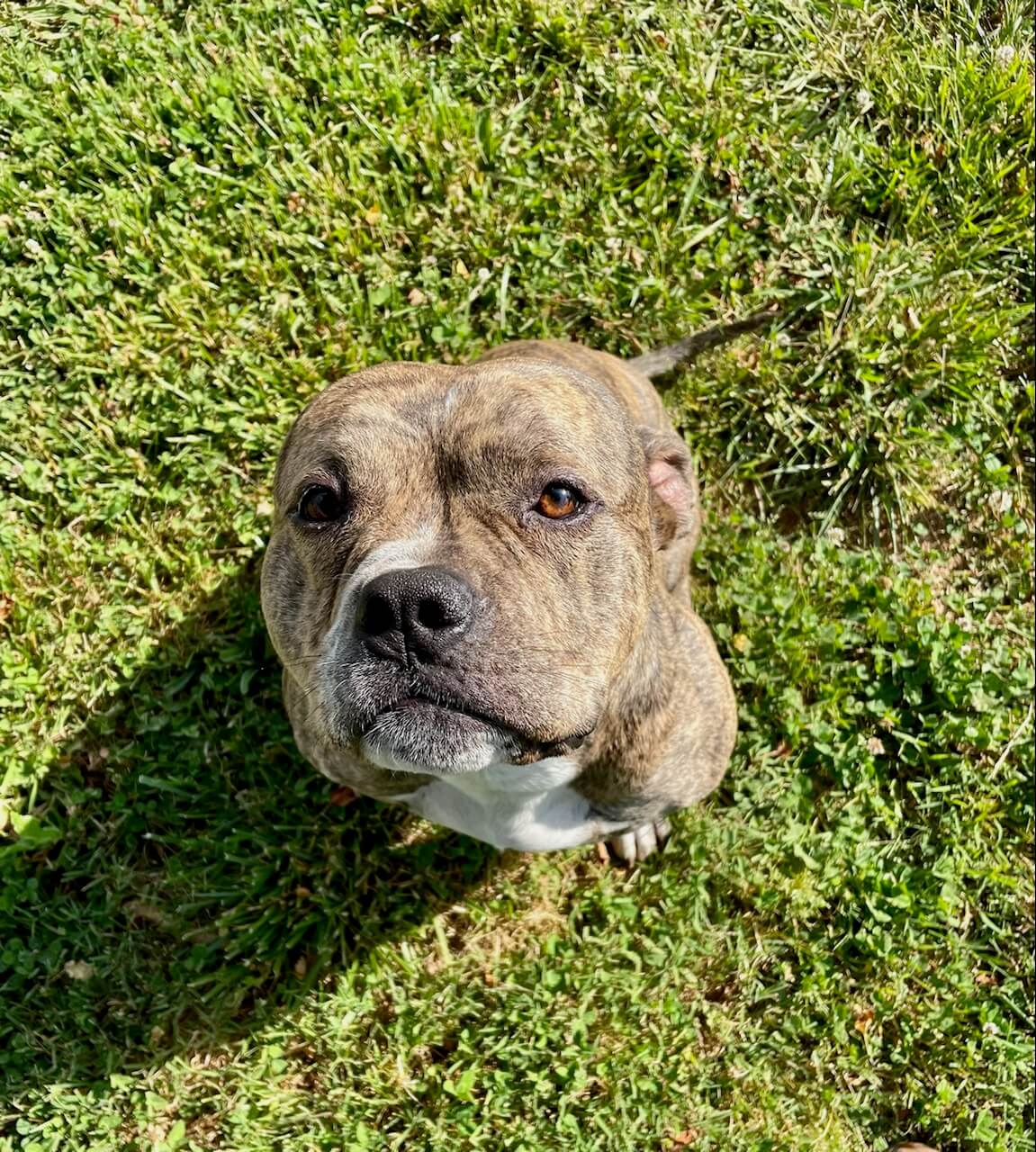 This month, the canine Pet of the Month is Thor. Thor, unfortunately, is a repeat offender and has returned due to ingestion of foreign material. A few years ago, Thor ingested a pacifier which obstructed his intestinal tract. Due to the physical blockage of his intestinal tract a surgery was required to remove this foreign body (pacifier). Foreign body surgeries come in different forms depending on the location of the obstruction, but all consist of a major abdominal surgery involving physically removing the obstruction from the affected area of intestinal tract. These surgeries can be extensive, costly and have an extended recovery time.
Thor had again gotten himself in trouble by ingesting foreign material. Radiographs of Thor's abdomen showed foreign material in his colon and stomach. Luckily, the material in his colon passed without the need for intervention. Unfortunately, the material in his stomach was stuck and would need to be removed. Traditionally this material would be removed with a gastrostomy, or an incision in the stomach, to remove the foreign material. Fortunately, the Animal Hospital of Statesville now has the ability to perform endoscopic procedures. We were able to use the endoscope to remove the foreign material without surgery, saving Thor from a long surgical recovery and discomfort.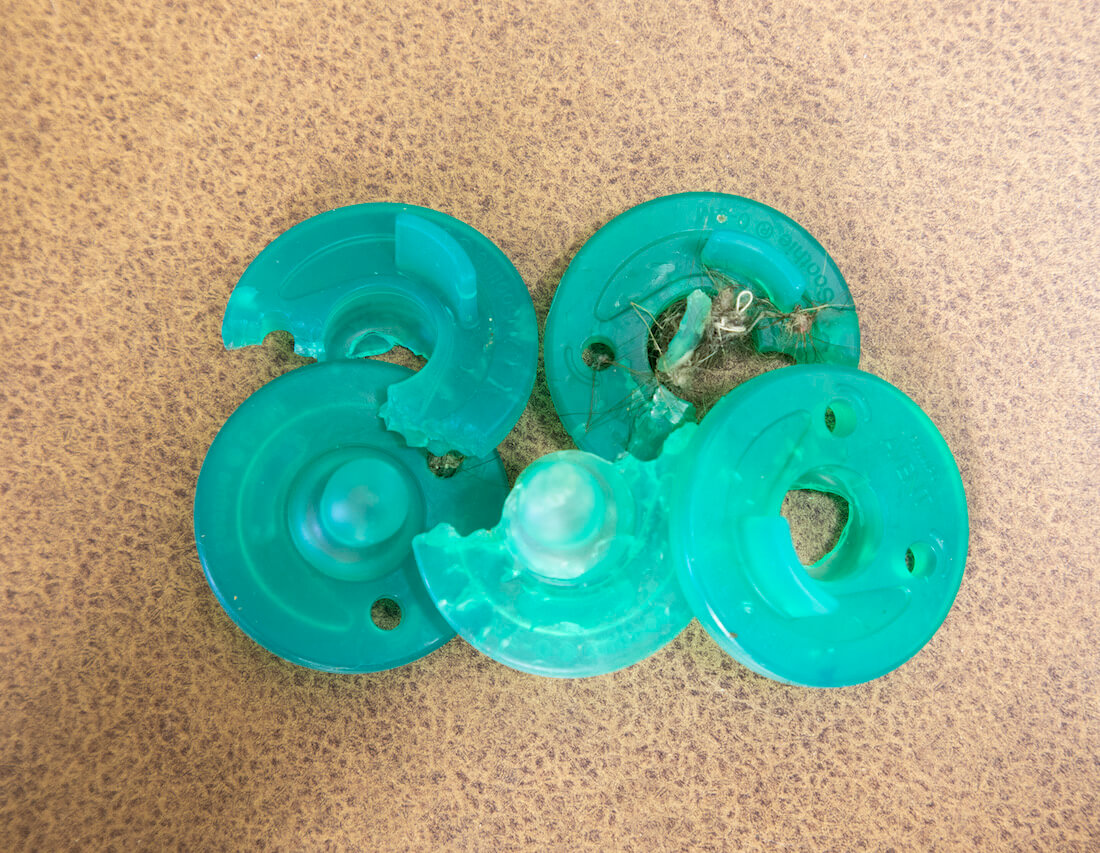 To our surprise, Thor had eaten a total of 5 pacifiers this time - one he passed and 4 that were retrieved from the stomach. Due to endoscopic retrieval versus surgery, Thor was back to normal the next morning.
Opie
Feline Pet of the Month July 2021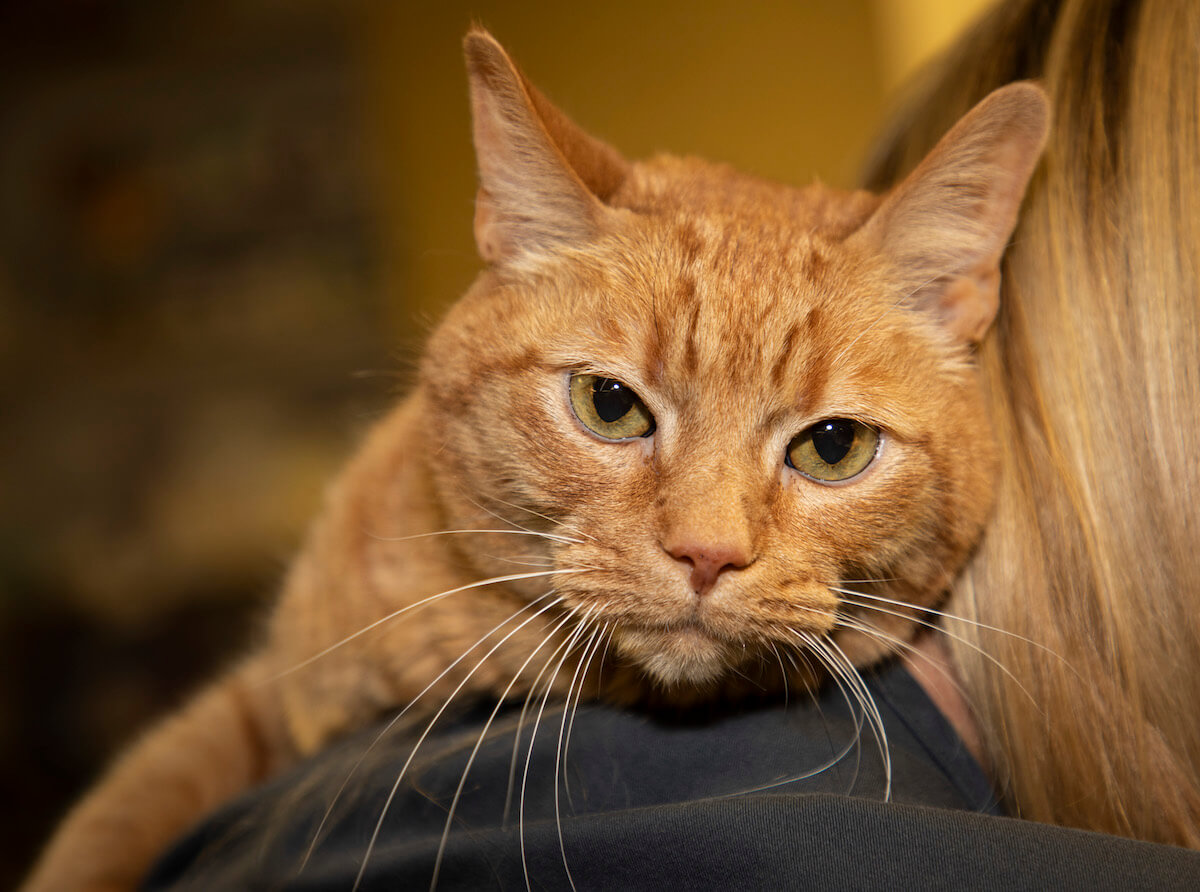 Greetings Humans!!!
Some of you may have seen a fleeting glance of me over the years. I think it is about time I formally introduced myself. I am Opie, the greatest clinic cat you've ever (or never) seen.
The kind people at the Animal Hospital of Statesville took me in at a very young age after someone threw me out of a car window. Luckily, someone saw the incident and brought me to my saviors. When I first arrived, I was treated like a prince, but for some reason, no one liked my gimpy leg, so they STOLE IT!! But…I do ok on the three they decided to let me keep.
Over the years, I've been given many responsibilities. Dr. Cooney often comes to me for advice. I mean, do you all REALLY think the new cat exam rooms were HIS idea?? Ummmm. NO! I think that he comes to me because I am the eyes and ears of this hospital…or maybe, he is finally realizing that I am smarter than him.
From time to time, I do things to make sure that all of the doctors here stay up-to-date on their skills. For example, I eat suture, rubber bands, plants (real and fake), just to be sure that if one of YOUR pets do any of these things, our doctors are ready and know exactly what to do!
I also specialize in surgical recovery care. On a daily basis, I monitor patients post-surgery to make sure that everything is as it should be. Snuggle time is very important to recovery. I also spend my days making sure that the technicians and assistants stay on their toes. When I am around (which is ALL the time) they have to really pay attention. Sometimes, if they aren't, blood tubes "fall" on the floor and bandage materials mysteriously "disappear".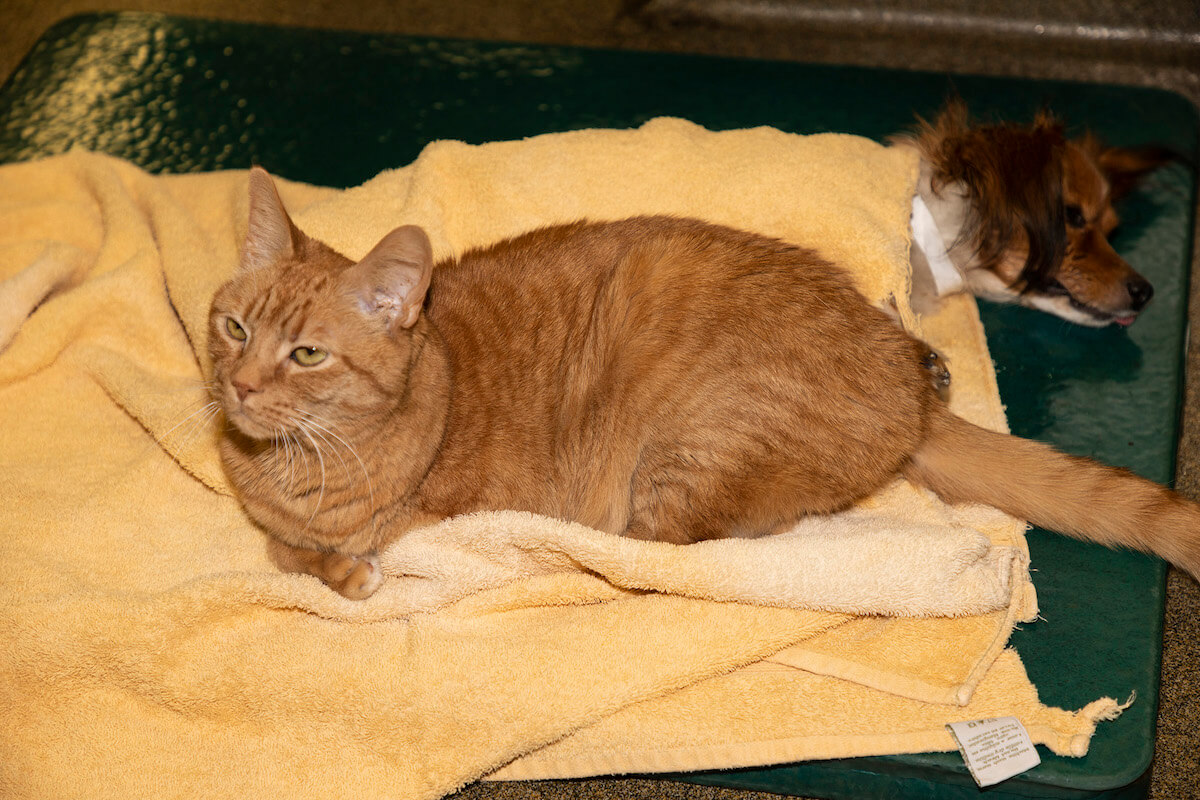 On April 21st, I turned 12! For the most part I had a pretty good birthday. I slept for hours on my super soft fluffy bed (the one Angela special-ordered for me). I was rubbed every time I demanded it. I was given catnip (Meowijuana is my favorite!), brushed, and at times, was left alone to camouflage myself in the cardboard boxes in the storage room. It was pretty perfect!
Overall, my life here has been pretty spectacular. I have made many friends, some who love to play and cuddle, others, I am pretty sure want to eat me, but I love them all the same. Just know that even though you may not always see me, I am always around, lurking in the shadows, and I am always watching! See you all soon. Or not. I am a cat, afterall! ~ Opie
Sadie
Canine Pet of the Month May-June 2021
Sadie is a beautiful, sweet Husky with a common dog problem! She is currently 9 years old and had been battling with her weight even as far back as 2017. In 2017/2018, Sadie's owner reported that she only fed 1 measured cup per day and Sadie was still gaining/overweight. While we completely agreed at that time that if it were true, there is no way she would still be gaining weight, we still tried to consider the fact that there were young children in the household overfeeding and giving extra table foods that could have contributed. At that time, we had discussed thyroid testing, but Sadie's owner was going to try to get better control of her portions and food exposure. By May 2020, Sadie topped out at 81 pounds, was having arthritic symptoms, lethargy, and definitely not feeling herself. At that point, we both agreed it was obviously time to do thyroid testing for Sadie. 
A blood test was sent out to the lab to test for her thyroid hormone and her thyroid stimulating hormone. Classic Hypothyroid results showed her TSH was significantly elevated and her T4 was significantly low. Those results, combined with her symptoms and weight problems resulted in a diagnosis of Hypothyroid. 
 
Hypothyroid is a common dog and human disease. "Hypo" refers to "low" meaning that she had an abnormally low thyroid concentration in her body. This is often related to an autoimmune condition and destruction of the thyroid gland making it not produce the proper amount of thyroid hormone. Thyroid hormone is exceedingly important for many bodily functions and health. With low thyroid counts a dog can show weight gain, trouble losing weight even with proper portion control, lethargy, hair loss, recurrent and more frequent infections, and in some cases, neurologic complications. 
The wonderful news about hypothyroid disease is that it is often easy to correct! We have synthetic thyroid hormone in pills that can be given to a dog to correct the thyroid deficiency. Sadie was started on thyroid pills and very quickly, symptoms started to improve! We retested her thyroid panel a few more times and adjusted her dose until she was perfect. Her weight was coming off nicely. Her thyroid levels were controlled by 3 months and her weight was almost to a desired level by 8 months later! She was down to 55 pounds from 81 pounds and she is perky, active, happy, and feeling much better! Owners report she is "like a puppy again". She has a little more weight to lose, but we are all so pleased with how she did and how she feels. We are happy to name her Animal Hospital of Statesville's canine Pet of the Month!!
Stone
Feline Pet of the Month May-June 2021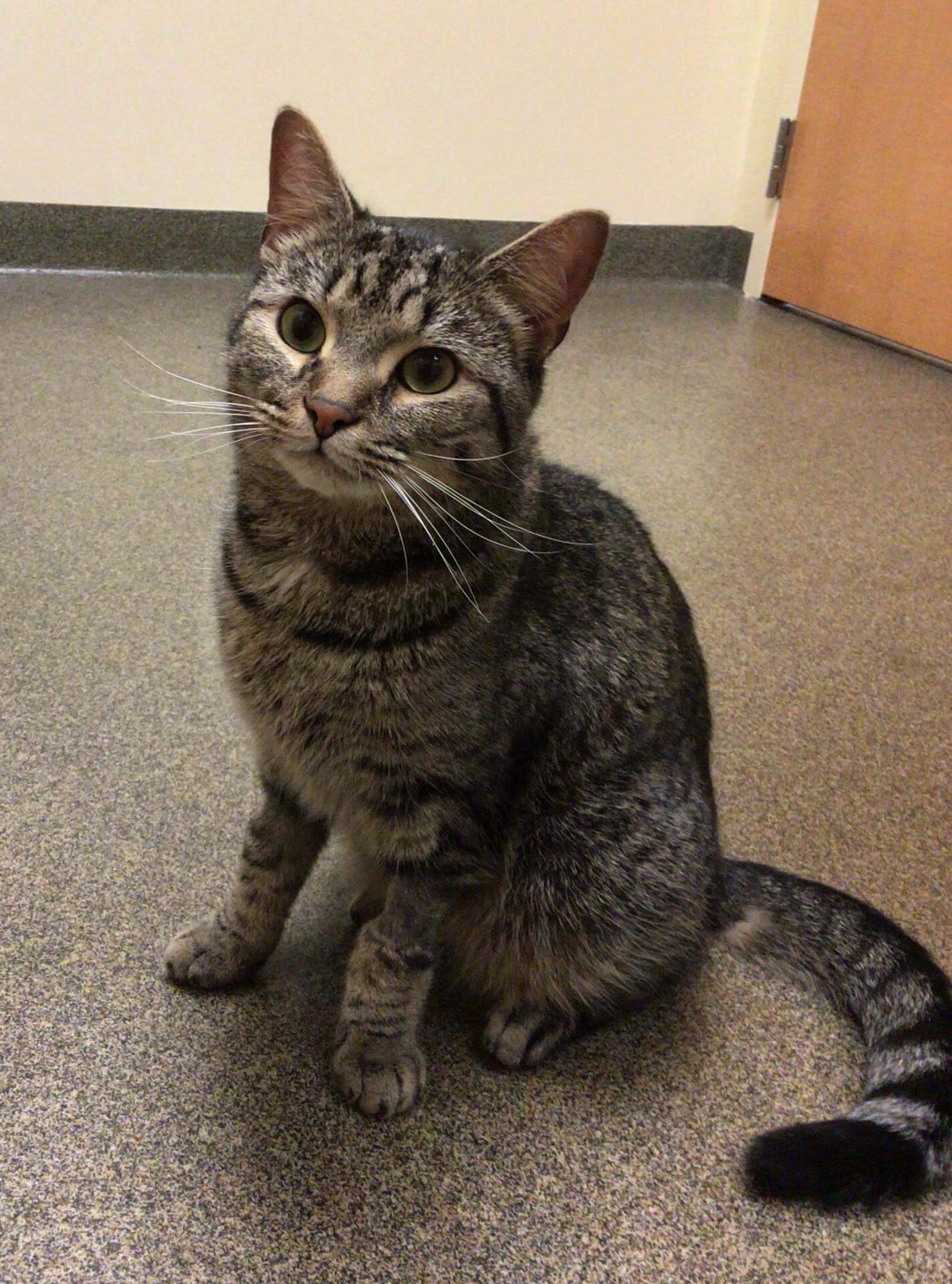 Stone is the sweetest, cutest little kitty! He came in on Emergency at about 1.5 years old, only about 4 months after owners got him from the Humane Society. They weren't sure what was wrong but based on how he was acting (and they saw blood at his back end), they thought maybe he fell from an 8-foot ledge they saw him laying/playing on earlier.
It quickly became apparent during his exam what was wrong, but surprisingly, he had no clear symptoms leading up to this major emergency issue! Stone had a big, hard, painful bladder. He was blocked! Unable to physically urinate and in a true emergency state. We ran blood work and his kidney values were very high and he was clearly sick.
Owners consented to hospitalization. We sedated him to pass a urinary catheter, relieve the pressure and empty the bladder. He started medications, changed to a special urinary diet, ran on IV fluids, and kept the urinary catheter in for a few days. He was feeling better and sent home with his new food and continued medications. Unfortunately, within 24 hours, he was blocked again. We ruled out any bladder stones or other issues and sedated him again to pass another urinary catheter. This time when sedated, we actually could "express" his bladder without even passing another urinary catheter. That meant that he had more of a temporary blockage created by muscle spasm and not really a true functional blockage. For this, we emptied his bladder and adjusted his medications further to try to prevent this issue and get his body to relax to allow urination. But unfortunately, by the next day, he was "truly" blocked again and required another urinary catheterization. At this point, he has been unable to go even a few days without blocking repeatedly. This combined with his age and presentation was looking like he would end up with a referral specialist visit for a special type of surgery to prevent repeat blockage. His owner was willing to do this but wanted one more try with the indwelling urinary catheter for a few more days while continuing to tweak and adjust and combine different medications to help.
This next urinary catheterization did the trick! (at least temporarily). He actually went home and was able to urinate on his own and was doing pretty well. The medication cocktail kept him pretty sedate and not his true playful personality, but he was able to urinate. At his follow-up 10 days later and after weaning down on some of his medications, he was still able to urinate, but not as far along on improvements as expected. We submitted a urine sample for a bacterial culture to see if a secondary infection could be related and discovered he did have an infection that needed treatment. We started treatment and he still didn't quite get where we wanted on his symptoms and by one month later, he was blocked again!!
At this point, we knew he needed more than just continued urinary catheterization. He was going to need the PU surgery. To relieve some pressure and make him feel better until he could make it to the emergency referral hospital, we sedated him to pass a urinary catheter only to discover, once again, that sedation alone was enough to get him to relax and empty his bladder. We emptied his bladder, gave him some fluids, and sent him on his way to the referral hospital.
Stone's infection was treated, he had the PU surgery and was able to get off all the medications that "stole his personality" and is now doing great!! Back to his sweet playful antics. He will continue to stay on the special urinary diet long-term and he may have urinary episodes or infections here and there, but he is finally expected to lead a pretty normal and comfortable life with a very low chance of blocking ever again!!
Urinary blockage is a serious and life-threatening condition in cats (typically only the male cats). Unlike Stone, often there are symptoms leading up to the blockage like bloody urine, straining to urinate, licking a lot, vocalizing when urinating, and urinating in inappropriate places. It can be caused by multiple factors and may have different types of medication and dietary treatments for management. Most of the cats do not end up needing the special PU surgery, but the cats that have frequent and complex issues often do end up doing that surgery. Poor Stone (and his family) had to deal with multiple episodes and issues along the way, but finally were able to get him comfortable and under control. We are all happy for the outcome on Stone and happy to have him as the Animal Hospital of Statesville feline Pet of the Month!!
Yaaway
Canine POTM March 2021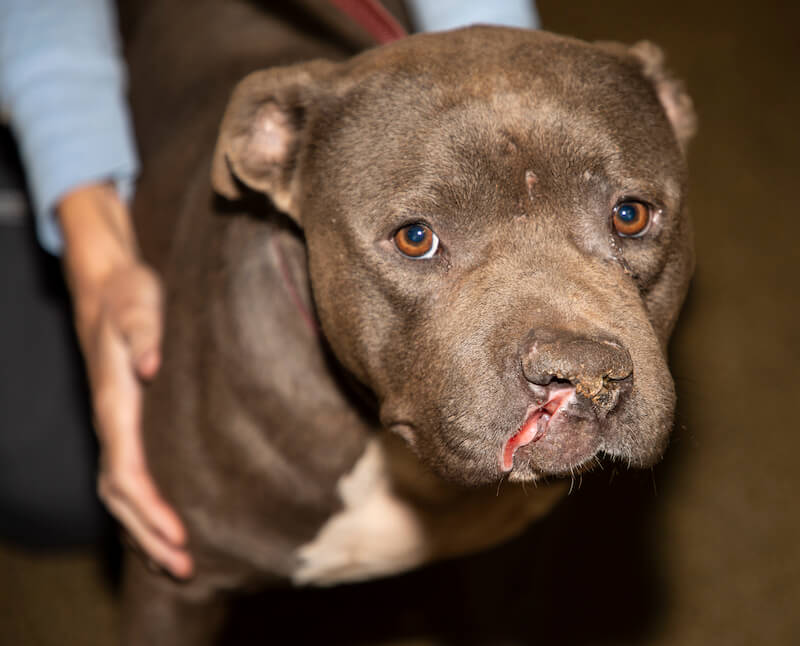 This month's canine Pet of the Month is Yaaway. He presented to us for a facial injury that turned out to be something much more severe. His injury on the surface appeared to be a laceration tot his face, but after sedation, we discovered a large fracture of the maxilla or the roof of his mouth.
We assume this injury happened by Yaaway getting his mouth stuck in a wire fence. Any type of wire fence can potentially be dangerous to dogs, causing possible injury to face, mouth, teeth and limbs. Dogs attempting to escape enclosures can cause injury, as well. Ensure your pet is safe in any fence and/or enclosure by checking the fencing regularly.
Luckily for Yaaway, we were able to remove the damaged piece of bone and repair his mouth. At his follow up appointment, he was doing great.
Before Surgery:

After Surgery:
Ford Hepler
Feline POTM March 2021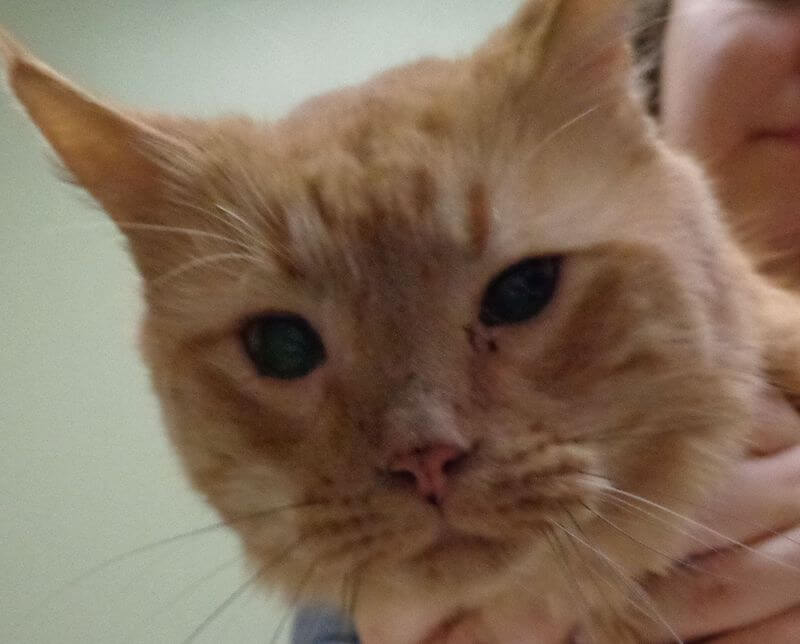 Ford is a handsome, 8-year-old, boy. He has had a history of allergies and upper respiratory infection but recently came to us to have his feet checked. He is an indoor kitty and developed a wound on one of his paw pads. The pad had an open, flesh-like area that protruded. The other paw pads had a "deflated" appearance. This is a common appearance for a condition called "pillow foot" or plasma cell pododermatitis. This is an immune mediated, inflammatory condition of the paw pads. The name, pillow foot, comes from its appearance. The affected pads may look like a pillow; they can have a balloon appearance or be mushy and sometimes will ulcerate. Ford was tested for FIV (feline immunodeficiency virus) as there is thought to be a link between these two conditions. He was negative for FIV. He did have elevated lymphocytes, which is a type of white blood cell and this is also a common finding. This is likely an immune mediated condition and the treatment is targeted at controlling the immune system. The most common treatment is oral doxycycline which Ford has been started on. Other treatment options are cyclosporine or possibly steroids to control. Ford is tough and his diagnosis has not slowed him down! This is why he is our feline Pet of the Month!
Cooper
Canine POTM January 2021
Cooper is a lively, sweet, young Border Collie. When we first met him, he was already on medications dealing with what seemed like ruptured anal gland abscesses. At the time, they looked like they were healing, so no treatments were changed. We were set for follow-up on some other medical issues, but did not think much more would come of the anal gland situation.
However, come a month or more later, the anal gland lesions were not healed yet. This is very atypical for a pet who is not licking and who had proper treatment for the condition. As a matter of fact, the lesions seemed to "spread" and seemed to look like areas of torn skin in multiple locations around the rectum.
While he is not the most common breed for the condition, it looked like a case of Perianal Fistulas. This is a condition almost exclusively seen in German Shepherd dog breeds (80+ % of the time),but can be seen in any breed. It has a likely autoimmune component, maybe allergic, and some genetic links. It can be a painful and progressive disease. Even though Cooper was on prednisone for another medical condition, the lesions continued to look worse. Prednisone is a common medication used with autoimmune diseases, but this disease responds better to alternative treatments. Since his other health conditions seemed under control, we decided to switch him over to medications commonly used for Perianal Fistula treatment. And within a short time, he was responding beautifully!
By 4 months of treatment, the lesions were long-healed and he was back to feeling his happy comfortable self. We slowly weaned down his medication dosing and symptoms have not returned. Time will tell whether or not his symptoms will come back and whether or not he will need a long-term regime for treatment, but for now, we are happy to report that he is still doing great! Since ruptured anal glands are a very common problem and this problem is a less common condition that can look similar, we wanted to name Cooper our AHS canine Pet of the Month with his great response and healing!
Little Man
Feline POTM January 2021
Little Man is a sweet little kitten. He was found in a dumpster with three littermates. The litter was rescued by a good Samaritan and Little Man was adopted to his new owner. Little Man was examined and found to be very healthy. The Animal Hospital had recently started to offer puppy and kitten health care plans. The plans include the essential wellness vaccines, internal and external parasite treatment and prevention for a year as well as a spay or neuter. The plans also include a retroviral blood screen for kittens to determine if the cat has been infected with feline immunodeficiency virus or feline leukemia. Little Man's new owner signed him up on the male kitten plan. Little Man went from being abandoned in a dumpster to having a great forever home in addition to all his wellness care and prevention for the next year. Little man has a heart-warming story and that is why he is our feline Pet of the Month.