WHAT IS PET INSURANCE?
Similar to human health insurance, pet insurance helps provide peace of mind in case the unfortunate should happen. Its purpose is to help cover the costs of unexpected accidents and illnesses that may occur in the future. Unfortunately, it will not cover any current conditions your pet may have which are known as pre-existing conditions. This means that the ideal time to insure your pet is as early as possible so that anything that happens in the future will be covered.
The Animal Hospital of Statesville recommends one company to our clients: Trupanion pet insurance. It can be very difficult for "pet parents" to research pet insurance, carriers and their coverage, and even more difficult for them to sort through all the complex information about pricing, exclusions and coverage plans. Considering the hectic pace of most families these days, who can possibly have the time and the patience?
In an attempt to rescue our clients from this maze of information, after extensive research and consideration, The Animal Hospital of Statesville is pleased to announce Trupanion as the insurance of choice. The decision is based on many things, including the expeditious manner in which Trupanion reimburses policyholders based on actual veterinary cost. The Trupanion Policy Overview states "Trupanion covers 90 percent of the actual costs of veterinary care should a pet become sick or injured. This includes diagnostic testing, surgeries, medication, supplements, therapeutic food, orthotic devices, prosthetic devices, and carts." The coverage includes not only your regular veterinarian, but also emergency veterinary clinics and veterinary specialists. Trupanion provides free online and phone customer support 24/7 and we feel this is very important for our clients. If you have an insurance question, you need help now-not tomorrow after 9 am!
As an Animal Hospital of Statesville client, you are eligible for a 30-day trial of Trupanion at no obligation. The special 30-day trial registration forms are available only at the hospital and require a physical exam. Clients are strongly encouraged to contact Trupanion directly as soon as the 30-day trial expires or visit them online at Trupanion.com. To obtain your no-cost Trupanion 30-day trial registration form, contact us for an exam appointment at 704-872-3625.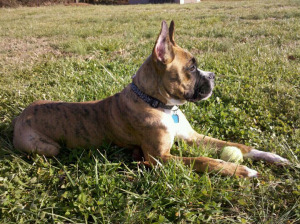 Click here to read Kendra's story