5th Street Ministries
For the months of September and October we are helping to support 5th Street Ministries. For the winter, cold-weather coats, gloves, hats and socks are always needed. To help with their regular meals, as well as Thanksgiving and Christmas meals, below is a list of items needed:
Canned potatoes
Canned corn
Canned peas
Canned green beans
Pasta
Rice
Dried Beans
Spaghetti sauce
Canned soups/soup mix
Seasonings
Eggs*
Milk*
Canned fruit and vegetables
Fresh fruit and vegetables*
Flour
Napkins
Plastic forks
Plastic spoons
Breakfast Meats*
Aluminum foil
Any spray oil, like PAM
Bulk black pepper ONLY
Of course, the *cold items such as eggs, milk and fresh fruit must be delivered directly to 5th Street at 1421 Fifth Street, Statesville, NC 28687, but we can collect the non-perishable goods here at Animal Hospital of Statesville and we'll deliver them as we fill up the bin! They have traditionally served over 8,000 meals a month, but as times are hard for many more people these days, our help is needed more than ever!
5th Street Ministries also collects other items to help the various groups and people they serve. You are welcome to bring items from these lists for us to deliver. Again, no perishables, please!.
Household Needs:
Tylenol
Aleeve
Ibuprofen
Paper towels
Toilet paper
Laundry detergent
Stain remover
Bleach
Air freshener
Cough syrup
Cough drops
Cold/Flu medicine
Shampoo
Deodorant
Feminine hygiene products
Towels and washcloths
Kitchen towels
Large and small trash bags
Shelter Services:
Pillows
Blankets
Twin Sheet Sets
Towels
Water Bottles
Clothes for 5-10 year olds
PATH House
Socks
Female/male underwear
Soap Razors
Bug spray
Towels
Deodorant
Sleeping bags
Toothpaste & toothbrushes
Combs and hairbrushes
Bottled water
My Sister's House
Paper towels
Liquid dishwasher detergent
Bodywash
Toilet paper
Laundry detergent
You may also purchase basic needs on Amazon and have it sent directly to 5th Street: Here is a link to that 5th Street Ministries Amazon Wishlist
As you can see, the need is great! To find out more about 5th Street Ministries, follow this link: www.fifthstreetministries.com
Food for Days
In years past, before COVID-19 became the "norm", we were collecting items for Food for Days, which provides food in backpacks for local kids who may not get a meal on the weekends. Can you imagine? Each month, Food for Days collects a different item. While some of these may not seem as nutritious as you might want, these are items that kids will actually EAT, filling their bellies when they may not get anything else. They are easy-to-make food items that are appropriate for kids to make themselves.
As you can see, each month has a specific food item that we are collecting. These items may be purchased and placed in the basket in our lobby – it's on the top of the shelves where the cat food is kept. You'll see a sign, or just ask! Each month, we'll remind everyone which item we are collecting on FB, but this list will remain on our website as a reference for you.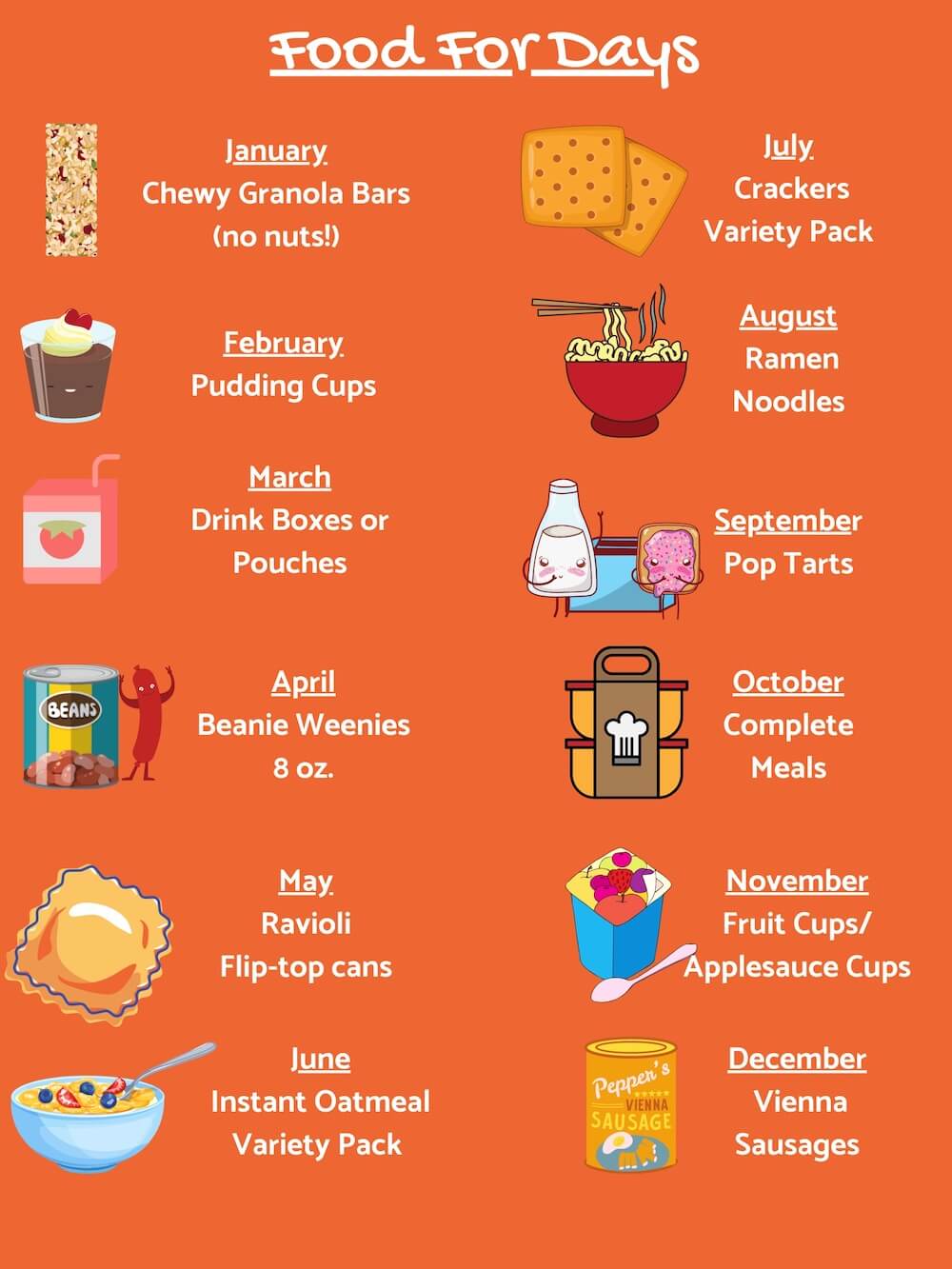 Please help us feed local kids. As you may know, Animal Hospital of Statesville is very involved in community projects throughout the year. And while COVID stole some of our luster, we are back at it with a vengeance! If you have items to donate but don't want to enter the hospital due to COVID fears, just call us upon arrival, and we'll come to your car and bring them in for you!
As always, thank you for your generosity. We know we ask much of you, but no more than we ask of ourselves. We try to help those that can't help themselves. In this instance, and in the instance of our Quarters for Laundry drive, the kids are the ones who benefit. Let's make 2022 a better year for our community's kids of all ages!
For more information visit: foodfordays.org
Quarters for Laundry
One of the needs that Tonya Reid, who is the District Homeless Liaison for the Iredell-Statesville Schools, has made us aware of is the need for local homeless students to have clean clothes to wear to school. To that end, we are collecting quarters for Tonya and her "crew" of helpers to use to make sure those kids are sent to school with fresh, clean clothes. We have a big jar on the desk in the front lobby to donate your quarters to help her accomplish this important, but, dare we say, often overlooked issue that faces our community's homeless students. We'll be keep the jar up indefinitely, so gather up your quarters and stick them in our big plastic jar! Our staff is donating, as well as clients who come in, have a few quarters, and just pop them in the jar! They will add up quickly! In the video accompanying this write-up, two of Sarah's daughters – Sarah is one of our Client Services Representatives – have robbed their piggy bank of their savings and generously donated their hard-won quarters - $20-worth, to be exact - to help out other kids in need! It's a great lesson for kids to learn about charitable giving. It feels good to us, and it benefits others and makes them feel better, too!
Homeless Students in Iredell/Statesville Schools - How You Can Help