Food for Days
In years past, before COVID-19 became the "norm", we were collecting items for Food for Days, which provides food in backpacks for local kids who may not get a meal on the weekends. Can you imagine? Each month, Food for Days collects a different item. While some of these may not seem as nutritious as you might want, these are items that kids will actually EAT, filling their bellies when they may not get anything else. They are easy-to-make food items that are appropriate for kids to make themselves.
As you can see, each month has a specific food item that we are collecting. These items may be purchased and placed in the basket in our lobby – it's on the top of the shelves where the cat food is kept. You'll see a sign, or just ask! Each month, we'll remind everyone which item we are collecting on FB, but this list will remain on our website as a reference for you.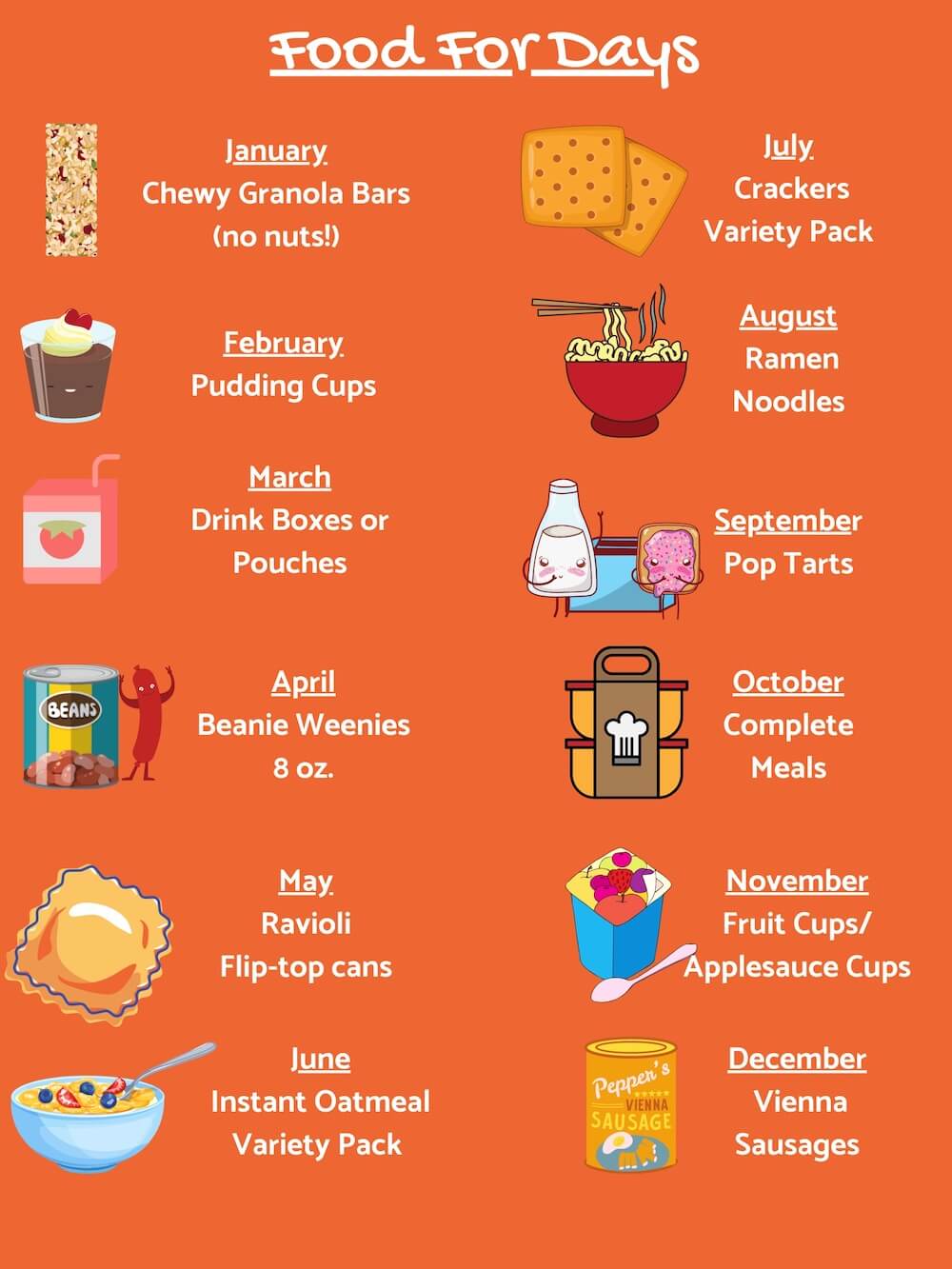 Please help us feed local kids. As you may know, Animal Hospital of Statesville is very involved in community projects throughout the year. And while COVID stole some of our luster, we are back at it with a vengeance! If you have items to donate but don't want to enter the hospital due to COVID fears, just call us upon arrival, and we'll come to your car and bring them in for you!
As always, thank you for your generosity. We know we ask much of you, but no more than we ask of ourselves. We try to help those that can't help themselves. In this instance, and in the instance of our Quarters for Laundry drive, the kids are the ones who benefit. Let's make 2022 a better year for our community's kids of all ages!
For more information visit: foodfordays.org
Quarters for Laundry
One of the needs that Tonya Reid, who is the District Homeless Liaison for the Iredell-Statesville Schools, has made us aware of is the need for local homeless students to have clean clothes to wear to school. To that end, we are collecting quarters for Tonya and her "crew" of helpers to use to make sure those kids are sent to school with fresh, clean clothes. We have a big jar on the desk in the front lobby to donate your quarters to help her accomplish this important, but, dare we say, often overlooked issue that faces our community's homeless students. We'll be keep the jar up indefinitely, so gather up your quarters and stick them in our big plastic jar! Our staff is donating, as well as clients who come in, have a few quarters, and just pop them in the jar! They will add up quickly! In the video accompanying this write-up, two of Sarah's daughters – Sarah is one of our Client Services Representatives – have robbed their piggy bank of their savings and generously donated their hard-won quarters - $20-worth, to be exact - to help out other kids in need! It's a great lesson for kids to learn about charitable giving. It feels good to us, and it benefits others and makes them feel better, too!
2nd Annual Operation Christmas Food Drive
Last year, a group of caring individuals, including AHS's Financial/Business Administrator and Angela, our Medical, Inventory & Safety Director, got together to make a friend's vision come to life. One of our clients, Gina Starrette, being confined to a wheelchair, saw the community's need and wanted to bring some Christmas joy to Statesville. Gina and others quickly got a sign-up together and in less than a few weeks, donations and volunteers came together and delivered 226 meals. This year, Animal Hospital of Statesville joined in the efforts as a sponsor. With a goal of 250, we need your help to provide meals for those who need a brighter holiday. To donate food or sign up as a volunteer, follow the Sign-Up Genius link below. There is more detailed information on that page, and in the video. If you'd like to make a monetary donation, you may write a check payable to Statesville Family YMCA and on the memo line, please write Operation Christmas Food Drive. If you wish to make a donation online, follow the link below, scroll down that page just a bit. You'll see a box to add how much you'd like to donate – you can donate any amount you want. In the drop-down, choose Statesville Family YMCA. Then, in the comment section, please enter Operation Christmas Food Drive. Don't forget to add your credit card information!
The event takes place on Saturday, December 18 at the Statesville Family YMCA at 828 Wesley Drive. Those who wish to pick up meals may come between 1pm and 3 pm. It is first come, first served. Volunteers will be needed starting at 11:30 on the 18th. Volunteers will assemble the meal bags and then, when the cars start rolling in, we'll deliver the meal bags (they feed up to 6 people) to the vehicles that show up at the YMCA. Volunteers will also be needed to help direct the "flow" of vehicles picking up their Christmas meal items.
We hope you'll share this information with folks who want to help, and those that need an extra bit of help this year! There are no "qualifications" to pick up the meal – you just have to decide whether you want Turkey or Ham!
Please join us and others in our community in helping our neighbors enjoy a family meal at this holiday time of giving.
Homeless Students in Iredell/Statesville Schools - How You Can Help
Furry Angel Tree
Animal Hospital of Statesville has a long history of sponsoring our Furry Angel Tree. Though COVID has changed how we collect needed items for local rescues, we still provide information for animal lovers to help provide badly needed items for these organizations.
The Furry Angel Tree Needs List helps you fulfill the wishes of these local rescues and send the items or donations directly to those organizations. Hopefully next year, we'll be able to surround our tree with the generous gifts of our clients once again, so everyone can see just how giving this community is and how much animals mean to all of us!