Chief
Canine Pet of the Month - June 2023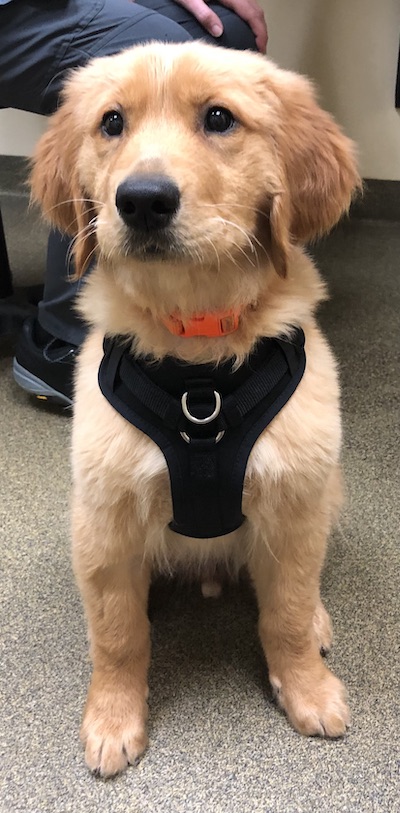 Chief is an adorable puppy that presented shortly after adoption at nine weeks of age. Chief had been fine playing one day, then became very lethargic with a little loose stool. Chief had a fever upon examination and some pustules near his ears. Chief's parvo test was negative (always a disease to rule out with any puppy) and no intestinal parasites were seen. Chief's signs were vague overall. We treated with antibiotics and subcutaneous fluids to see how he responded. Chief's fever worsened over the next few days and he went on to develop enlarged lymph nodes and difficulty walking, likely from muscle inflammation. Juvenile cellulitis, or puppy strangles, was suspected. This is a poorly understood autoimmune condition seen in puppies, but rarely. Golden Retrievers and Dachshunds tend to be the common breeds affected. There is no test available. Chief's presentation was not typical, as usually, initially the face and ears are swollen with lymph node swelling as well. Chief was started on intravenous fluids and hospitalized. Corticosteroids were started, as this is the treatment needed to suppress an overzealous immune system. Chief responded well to therapy over the next few days and began to walk and become stronger. Chief's owners were diligent and committed. Chief was on corticosteroids for many weeks and slowly weaned off of them. Today, he is a fully-vaccinated rambunctious puppy of 5 months. Chief's case was interesting and rewarding for all involved. This is why is AHS's canine Pet of the Month!
Baxter
Feline Pet of the Month - June 2023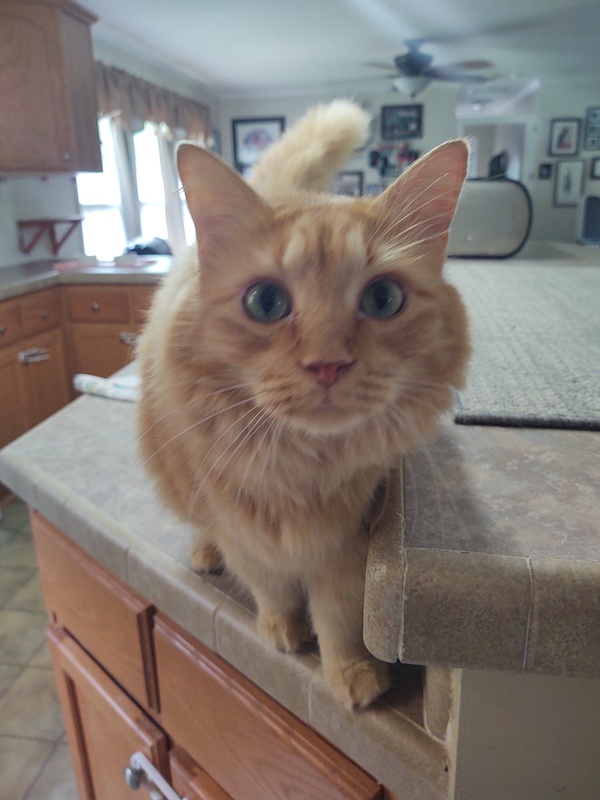 Baxter is a handsome, 6-year-old boy. He developed a problem with his right knee joint several years ago. A mineral opacity was found in the joint on radiographs. This could have been a result of an acute injury, or an indication of a degenerative problem with his joint. Either way, it was likely to progress as he aged and could become quite painful for him. He initially responded well to pain management but his leg started to bother him again. There are not many safe options for pain control long-term in cats. Also, cats are well known to hide their pain so sometimes we don't recognize when help is needed.
Solensia is a monoclonal antibody that controls pain in cats caused by osteoarthritis (OA). It is the only FDA approved treatment in cats to control pain caused by OA. It works by binding to nerve growth factor and inhibiting its ability to cause pain. It helps mobility and improves their overall quality of life. It is a monthly, subcutaneous injection given by your veterinarian. And best of all, it is safe to use long term in cats! Baxter has improved greatly since starting these injections and is now on his 5th month of treatment. We are happy to report that Baxter is more mobile at home and most importantly, more comfortable day to day! Baxter's dramatic improvement with Solensia has earned him the title of AHS's Feline Pet of the Month!