Mac
Canine Pet of the Month - October 2021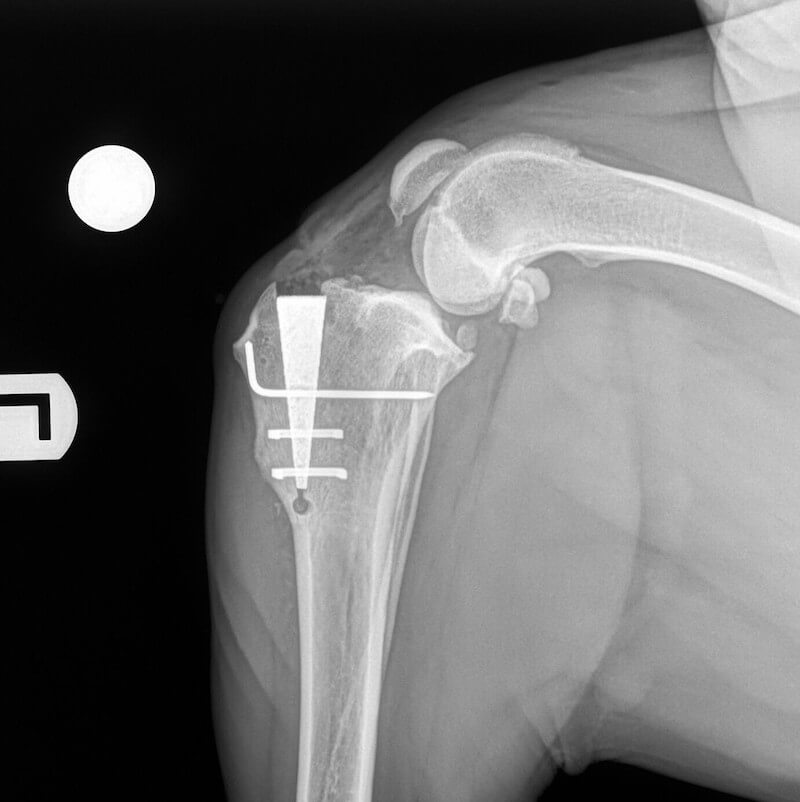 This month's pet of the month is Mac. Mac was diagnosed with a ruptured cranial cruciate ligament in his left knee. Cruciate ligament rupture/injuries are unfortunately common in dogs and a common cause of chronic lameness. The cruciate ligaments serve to stabilize the knee joint and injury or rupture to the cranial cruciate ligament leads to joint laxity, pain, and the development of arthritis. Mac underwent a new procedure offered here at the Animal Hospital of Statesville, the Modified Maquet Procedure or MMP.
The MMP is a surgical stabilization of the knee joint once a cranial cruciate ligament injury has occurred. The procedure entails inserting a titanium wedge into the tibia and with help from the quadriceps and patellar tendon stabilize the knee joint.
In the radiograph you can see the result of the surgery including the titanium wedge, a bone pin and staple (2 staples in Mac's case due to his large size). This procedure not only stabilizes the injured stifle joint but unlike some other cruciate surgeries, allows the patient to return to athletic function quicker with less strict cage rest.
After 6 weeks of recovery, Mac was doing great and was approved for off leash exercise. He continues to do well and is back to pre-injury activity.
If you have any questions about this surgery, please give us a call and we would be happy to provide more information.
Diesel
Feline Pet of the Month - October 2021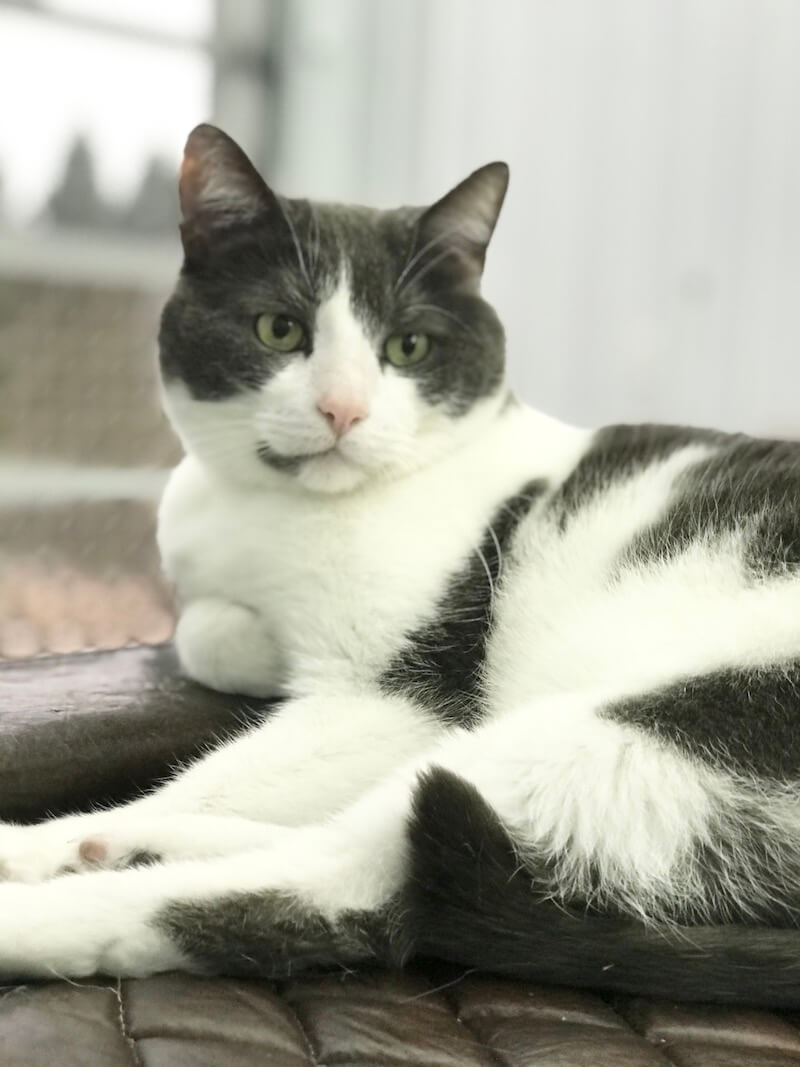 Diesel is a 7-year-old sweet male kitty that presented one year ago not eating and losing weight. Diesel had a history of inflammatory bowel disease well-controlled on prescription food. Diesel's blood work indicated severe kidney insufficiency or failure. Diesel was started on iv fluids to rehydrate. Testing was started to see if an underlying cause could be determined. Diesel had bacterial cultures of the urine, blood pressure, x-rays and ultrasound. We were looking for concurrent infection, hypertension and bladder or kidney stones. Nothing could be found. Diesel started to feel better and was transitioned to a special kidney diet that may also control his inflammatory bowel disease. Cats with kidney failure have trouble maintaining their hydration adequately. Sterile fluids injected under the skin daily can help improve the quality of life of the kitty. Diesel's owner was very dedicated and learned to do this at home daily. Diesel was also started on aluminum hydroxide powder with his prescription food to bind phosphorus. Phosphorus often increases in the body as the kidney cannot excrete it properly. Over time this worsens quality of life as well as kidney function. Diesel's kidney blood work continued to improve with a few episodes of decompensation, but a year later, is doing very well. Eventually Diesel's kidney function will decline. So far Diesel has beat the odds and that is why he is our feline Pet of the Month.