Bandit
Canine Pet of the Month - December 2022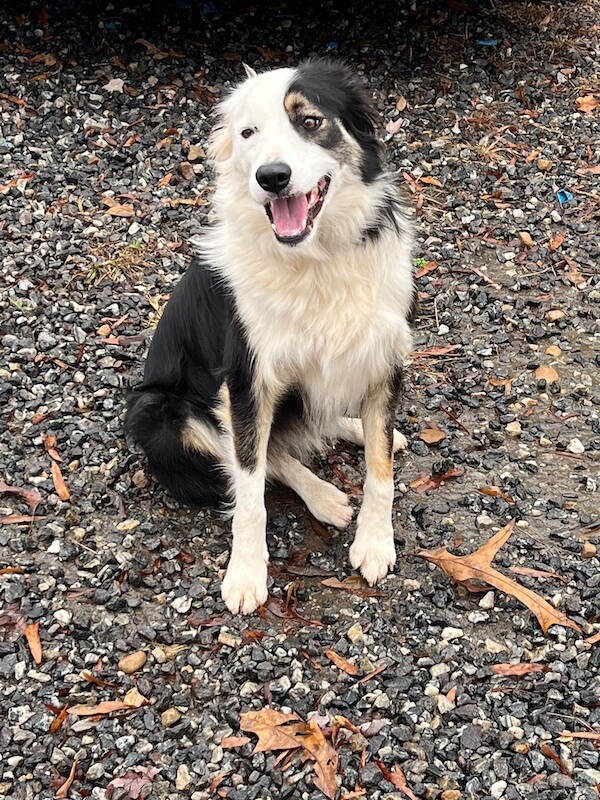 Bandit is an eighteen-month-old Australian Shepherd. He presented to us one evening after having a run in with a UPS driver's vehicle. He had several areas of road rash with some mild blood coming from his mouth. He was very reluctant to allow any manipulation of his mouth and was quite painful.
We treated him aggressively for pain and gave him some medication to calm his anxiety. Once those had reduced his anxiousness, we sedated Bandit to allow a full inspection of his mouth. After X-rays and manipulation, he proved to have an extremely unstable fracture of his mandibular symphysis - in essence, the area at the front of the chin where the left and right side of the jaw fuse together. The two sides of the jaw were working independently of one another. This type of fracture needs surgical correction.
We had Bandit return the next day for surgical repair that included two wires - one placed in front of the canine teeth and the other well behind the canine teeth. These wires were then tightened to allow for good reduction and stability of the fracture. The wires were left in place for two months. He was released with instructions to keep Bandit confined and feed only softened food. Within a week he was ready to run and play again, making his recovery period a little more difficult than most as we needed to allow for healing. We had to prescribe sedatives to keep Bandit calm.
Bandit was sedated two months later, and the wires were removed. The jaw had healed beautifully with excellent alignment and stability. Bandit was released to start eating hard food again and he is back to herding the cows on his farm. Because of his excellent healing of a severe fracture, Bandit is AHS's canine Pet of the Month.
Bree
Feline Pet of the Month - December 2022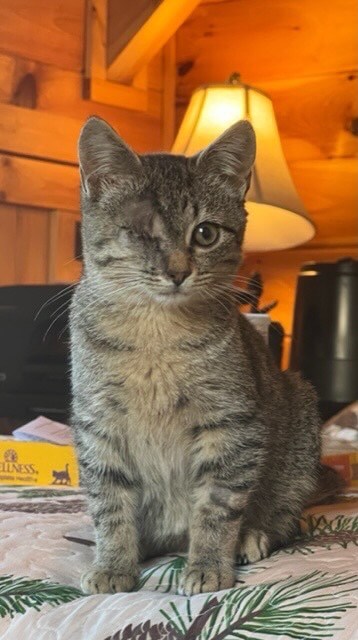 Bree is an adorable kitten. She was found on the side of the road at 8 weeks with an eye injury. The eye was severely damaged and infected and needed removal. Brees's finder elected to commit to her care and add her to the family. Due to Bree's small size and pediatric age she was a high risk for anesthesia but the eye could not be left in place. Bree did super through anesthesia and the eye removal or enucleation was free of complications. Bree is doing super now at 11 weeks and has integrated very well into a multiple cat household. Bree has smitten the humans as well as the other kitties in the household. Her story is very heartwarming and that is why she is AHS's feline Pet of the Month.