Piper
Canine Pet of the Month - September 2022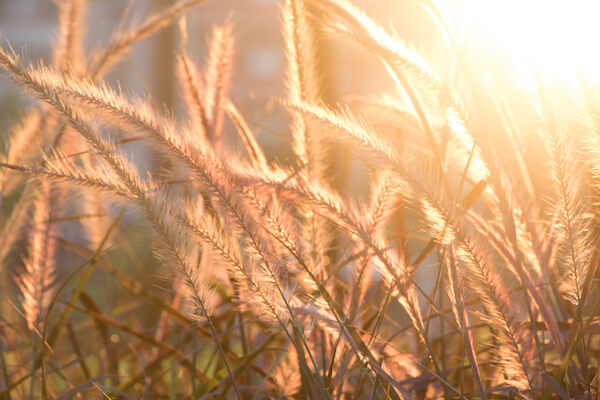 This month's Pet of the Month is Piper. Piper is a 2-year-old Boston terrier that came to the Animal Hospital of Statesville for a swelling under her chin. The area was aspirated and showed the area was inflamed with an infection, so Piper was treated with pain/anti-inflammatory medications and antibiotics. Around a week later Piper came in for a recheck and the swelling had not improved so the decision was made to surgically explore the swelling. In surgery we were surprised to find the cause of the swelling and infection – A grass awn! Grass awns or foxtail awns are the seeds from naturally occurring grasses readily found in most areas. These seeds when they come in contact with the skin can sometimes embed in the skin and can migrate deeper to cause inflammation and infection. The awns are commonly found around the neck, face, or feet. Typically, these must be surgically removed as in this case, but most go on to a full recovery.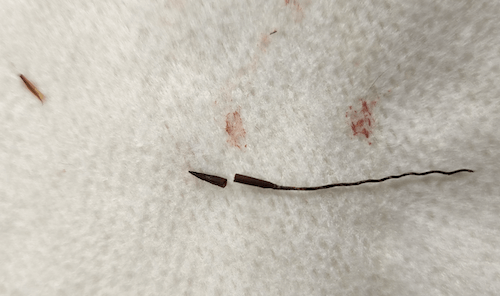 If you suspect your pet has issues with grass awn or have any questions, please call us at the Animal Hospital of Statesville.
Goose
Feline Pet of the Month - September 2022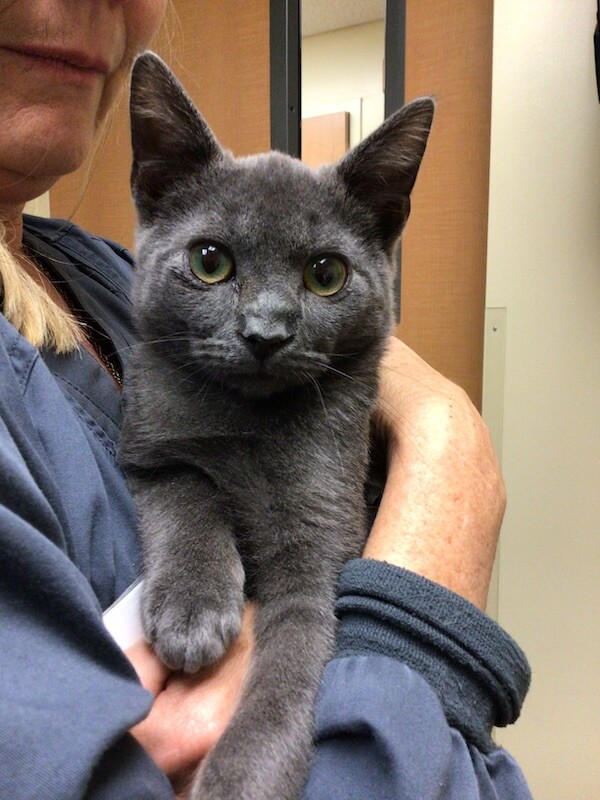 Goose is such a cute sweet little kitten with a rough start! He was found when he weighed only 2 pounds. A little rough looking, snotty nosed, flea and tick infested little kitten. But his family saw the beauty in him and wanted to make his life better. He started out like a typical upper respiratory herpes viral snotty nosed kitten with squinty crusty eyes. But that is where the similarity stopped. Within a short amount of time, his owners noted something odd. His nose started to swell and the bridge of his nose started to bulge. His respiratory symptoms progressed.
When he first presented here, we discussed the concerns with his facial deformity and worried about a type of fungal infection that can cause a facial deformity like this. We were unable to find evidence of the fungal organism on swab slides under the microscope and started to treat him for viral and bacterial infection to see how he would respond.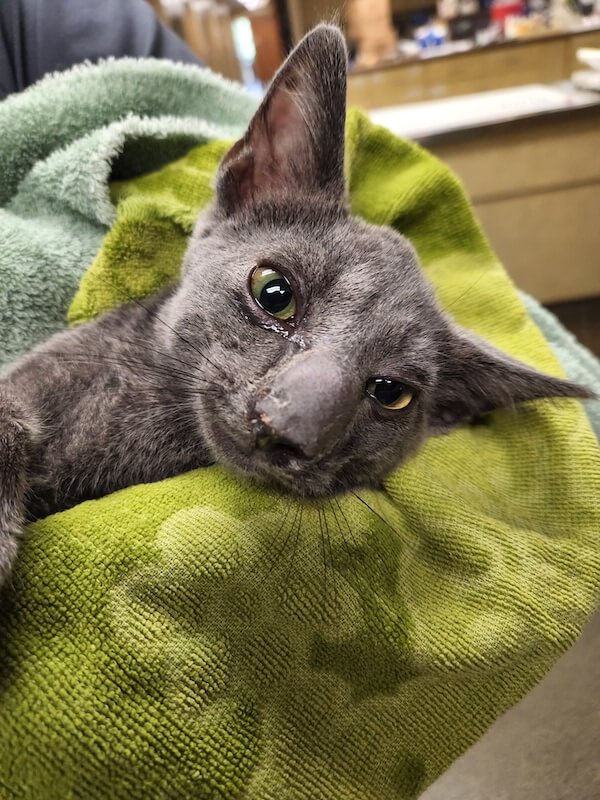 Within a week, he continued to progress. He was worsening and his family worried he was starting to suffer, but they wanted to give a little more time to see if he would respond to medications. By 2 weeks, they feared the worst, were to the point that they couldn't watch him suffer any longer, and were about to consider humane euthanasia. When he came back to discuss and consider this option, we saw something a little different on that visit! We saw movement at the nostril. We saw what almost looked like an "eyeball" peeking out of that nostril! He had a fly larva growing inside his nostril!
Within the 2 weeks since we first saw him, the larva grew large enough to fill the area of the nostril and was more present and visible at the opening. It was disgusting, but also very interesting to see! And much better news than we thought. We can fix this problem!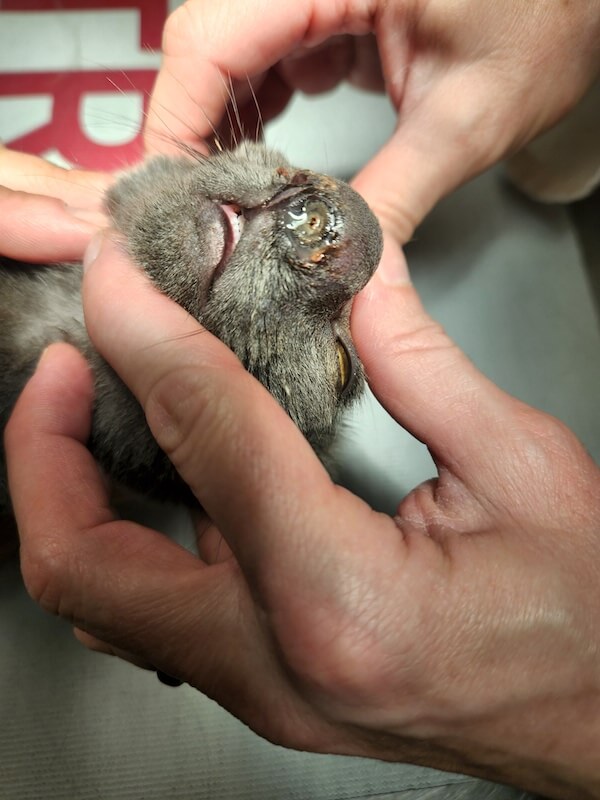 Goose was sedated. We applied some lubrication jelly over that nostril opening to "stress" the larva trying to breathe through the opening and watched as the larvae scooted more and more exposed from the nostril opening. At that time, we were able to grasp the front portion of the larva and pull hard and steady until the 1.5 inch long, 0.5 inch wide cuterebra bot larva was removed from the poor kitten's less than quarter inch nostril!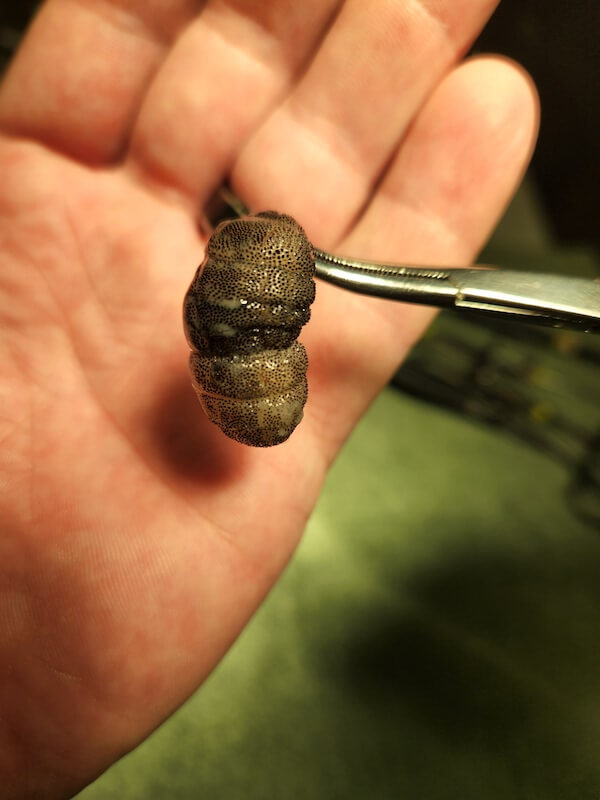 Cuterebra (or Botfly) is a relatively common insect in the area. They normally lay their eggs near rodent burrows and grow their larva stage (the warble) in rodents or rabbits, but sometimes cats are nosing around in rodent burrows and become the accidental host. They usually develop under the skin, but sometimes they can take hold in the nostril tissue like in Goose's case.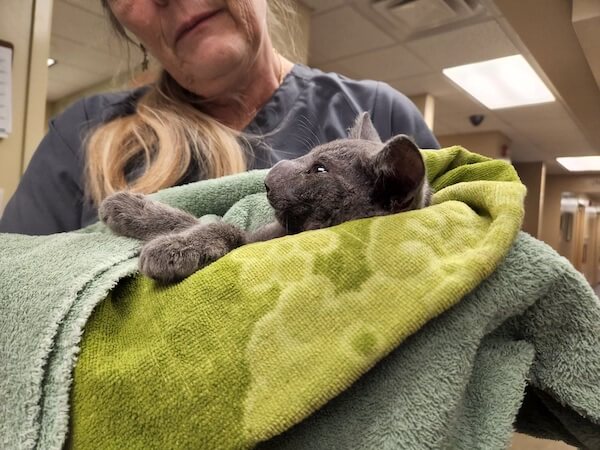 After removal, Goose was given another antibiotic injection and more time and he quickly responded. His facial deformity has improved dramatically and he appears to have minimal obvious residual damage. He is back to being a wild spunky kitten and we look forward to a long happy life with this sweet boy!! With the impressive nature of the presentation of this somewhat common problem, Goose has landed himself in the spotlight for Animal Hospital of Statesville's Cat Pet of the Month!!