Stone
Canine Pet of the Month - May 2022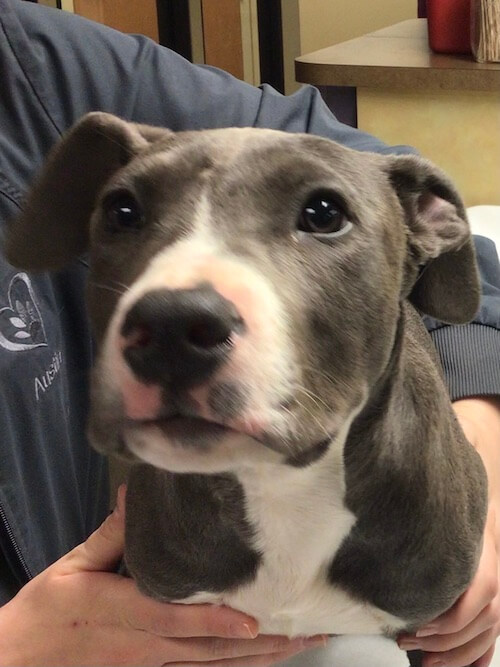 Stone is a cute little Pit Bull puppy, 3-4 months of age. Stone presented with about 5 inches of rectal tissue protruding and dangling from his rectum. Stone was bright and alert and the tissue was moist and not badly damaged. Likely, Stone had developed diarrhea and started straining to defecate and the tissues of the rectum protruded which facilitated more straining leading to more rectal tissue to prolapse. Stone was sedated and with much effort, the swollen rectal tissue was replaced and sutured into place with a purse-string suture in the rectum to prevent recurrence. Underlying causes of diarrhea were investigated and treated. Intestinal parasites and parvovirus are the largest diarrhea concerns in puppies this age. Stone was clear of both after testing, but we treated for intestinal parasites anyway in case there were worms in the intestine not shedding eggs. Stone was treated with metronidazole. This is an antibiotic and anti-inflammatory to stop diarrhea and inflammation. Stone was given gabapentin for pain. Gabapentin is also a bit sedating to prevent straining. Stone did well with the purse string suture and left it in place. He defecated through the small opening. The suture was removed a week later. If the prolapse recurs, aggressive surgery is often needed. Stone is currently doing well. Stone was an interesting case and neat little puppy. That is why he is our canine Pet of the Month.
Axle
Feline Pet of the Month - May 2022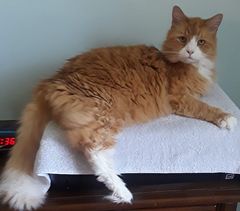 Axle is a seventeen-year-old cat that presented to the emergency clinic in January for weight loss, vomiting and lethargy. Blood screening performed there indicated moderate kidney disease and dehydration. Axle came to us the next morning for continued care.
On presentation, Axle had lost 4 pounds since his last visit 3 years prior. Most of his weight loss was due to loss of muscle mass. He was dehydrated and very mopey. A urinalysis did indicate kidneys that were not only not detoxifying the blood appropriately, but not filtering it well either.
Renal disease is not uncommon in cats as they age. Treatment, though, can be quite frustrating. It focuses on special diets and forcing the cat's kidneys to work. For me or you, this would mean dialysis, where a machine cleanses our blood. While that can be done in pets, it is cost-prohibitive for most clients. The next best option is called diuresis. This is forcing the kidneys to work by giving them extra fluids to process. The best way to do this is with an IV catheter and hospitalization. While this is a great short-term option, it is not a long-term plan. The final way is by giving fluids under the skin and letting the body absorb them naturally. This was the option chosen with Axle. Now, we had to determine the amount and frequency.
We started with 100 ml twice weekly and though Axle felt better, his kidney values continued to climb. We slowly worked the amount and frequency up and eventually the values began to improve. Axle started eating better and his weight started improving. We finally settled on 250mls three times a week.
Axle is eating well, his kidney values have almost normalized, and he has gained over 1 pound. While we know that this treatment is not a cure, we hope to maintain Axle for a long time. For these reasons Axle is this month's feline Pet of the Month.